Hi, hi! I'm doing a bunch of events in October/November for Not Your Average Hot Guy — many with friends who have new books coming out too or soon! We worked hard to make sure all of these will be distinct and fun on their own, so while you will have plenty of chances to get sick of me, every event will be a bit different. I'll be signing and personalizing books at Joseph-Beth Lexington and Cincinnati, so hit them up with your preorders. The other fabulous indie bookstores I'm doing virtual events with will have signed bookplates with the cutest special stickers I ordered for them and buying from them is also HIGHLY encouraged.
As you may have seen, people are very worried about book shortages and supply chain issues. That makes this the perfect time to grab signed books for holiday gifts!
Tour info! All places with locations are in-person, everything else is virtual. You will also be able to find up to date info over on the event page of the site, obviously. There are TWO graphics' worth, but I'm going to annotate with links below each. Go sign up and etc! Please know that I am to blame for all the event titles.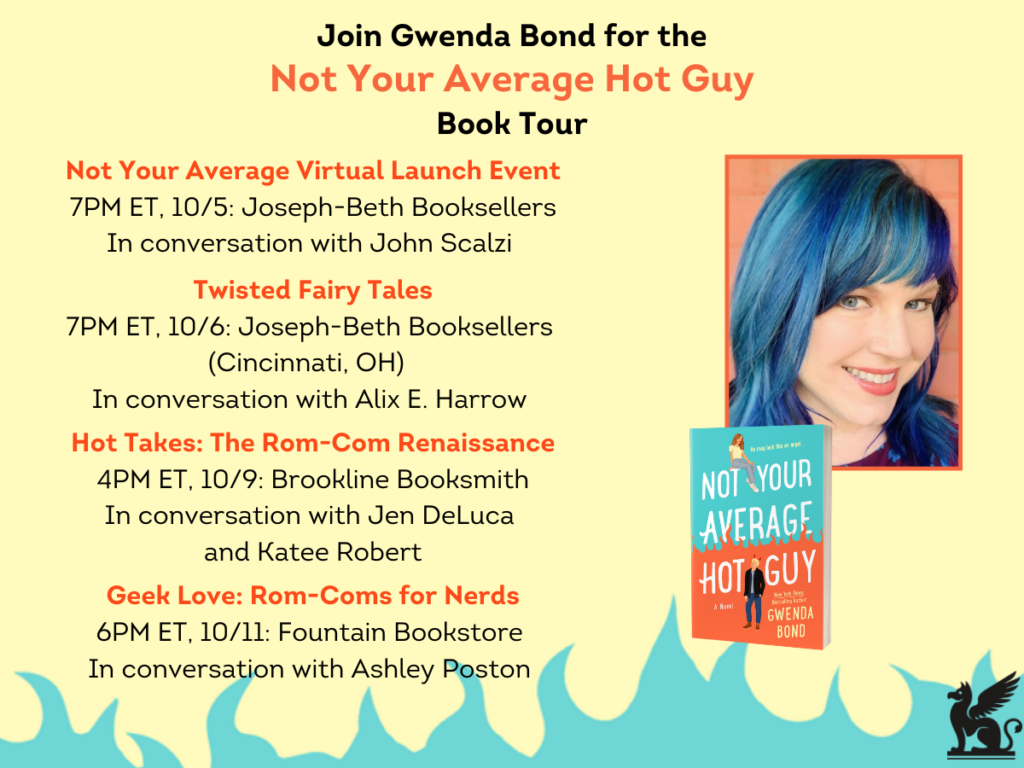 October 5: Join me and one of the funniest, most romantic people I know, John Scalzi, for a virtual launch event hosted by my beloved local indie Joseph-Beth Booksellers Lexington that is sure to be a blast on release day, October 5, at 7 p.m. You can order a signed copy of the book and/or RSVP to the event right here.
October 6: I'll be joining the wonderful genius Alix E. Harrow to help launch her A SPINDLE SPLINTERED, out the same day as NYAHG (and you are going to love it!) in person at Joseph-Beth Booksellers Cincinnati.
October 9: Join me and two of my favorite romance writers, the phenomenal Jen DeLuca and Katee Robert, for a discussion hosted by Brookline Booksmith about all things Renaissance, gods and devils, and rom-com.
October 11: Join me and the absolutely fabulous Ashley Poston for a discussion of nerdy goodness, Lucifer, and rom-coms hosted by Fountain Bookstore. Sign up here!
October 22-23: Information on exactly what I'll be doing to come, and I'll add the link to it then. Here's the general festival info!
October 28: I'll be joining the divine and singular Cherie Priest to celebrate the launch of GRAVE RESERVATIONS at an event hosted by Murder by the Book — we will have some fun.
November 3: I stole a Billie Eilish lyric for this one and I'm not sorry. Join me and two of my favorite humans, Alix E. Harrow and Kami Garcia (BEAST BOY LOVES RAVEN), for what's sure to be a wide-ranging discussion hosted by Mysterious Galaxy!
November 6: Details on exactly what I'll be doing at the Kentucky Book Festival to come, but signing books? Yes. We'll be at Joseph-Beth Booksellers in Lexington this year.
Whew! A huge shoutout to the fabulous team at St. Martin's who have put all this together!