Available now
"Fun, funny, hot, and heartfelt…The apocalyptic beach read that everyone needs." – Alix E. Harrow, New York Times bestselling author
In this hilarious, romantic sequel to Not Your Average Hot Guy, Callie and Luke's date is thwarted when Lucifer gives them three days to redeem a soul.
After saving the world and stopping the apocalypse, Callie and Luke are looking forward to a quiet, romantic weekend together. When you're human and dating the Prince of Hell, quiet moments are hard to come by. But their romantic weekend in Hell takes a turn when Lucifer tasks Callie and Luke with chasing a wayward soul around the world. If they can prove it's possible to redeem a soul, Lucifer will allow the two of them to make some changes in Hell.
But this wayward soul, Sean, doesn't have any interest in being redeemed. Instead, now that he's back on Earth, he's decided to take a leaf out of Callie and Luke's book and wants to find the Holy Grail. Now Callie, Luke, their friends—and enemies—must race Sean around the globe on a Grail quest and bring peace between Heaven and Hell before they can finally (maybe) get around to that date.
In The Date from Hell, the sequel to Not Your Average Hot Guy, New York Times bestselling author Gwenda Bond brings the journey of Callie, Luke, and their friends to a wonderful close. This is another laugh out loud, action packed romantic adventure you won't want to miss.
Available Now
A mysterious lab. A sinister scientist. A secret history. If you think you know the truth behind Eleven's mother, prepare to have your mind turned Upside Down in this thrilling prequel to the hit show Stranger Things.
It's the summer of 1969, and the shock of conflict reverberates through the youth of America, both at home and abroad. As a student at a quiet college campus in the heartland of Indiana, Terry Ives couldn't be further from the front lines of Vietnam or the incendiary protests in Washington.
But the world is changing, and Terry isn't content to watch from the sidelines. When word gets around about an important government experiment in the small town of Hawkins, she signs on as a test subject for the project, codenamed MKUltra. Unmarked vans, a remote lab deep in the woods, mind-altering substances administered by tightlipped researchers . . . and a mystery the young and restless Terry is determined to uncover.
But behind the walls of Hawkins National Laboratory—and the piercing gaze of its director, Dr. Martin Brenner—lurks a conspiracy greater than she could have ever imagined. To face it, she'll need the help of her fellow test subjects, including one so mysterious the world doesn't know she exists—a young girl with unexplainable, superhuman powers and a number instead of a name: 008.
Amid the rising tensions of the new decade, Terry Ives and Martin Brenner have begun a different kind of war—one where the human mind is the battlefield
About Gwenda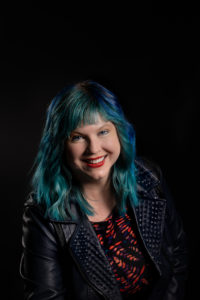 Gwenda Bond is the New York Times bestselling author of many books. Her latest is her first rom-com, Not Your Average Hot Guy, with a sequel, The Date from Hell, coming in April 2022, both from St. Martin's Griffin. She's also hard at work on lots of other projects, some secret for now.
Her previous work includes the first official Stranger Things novel, Suspicious Minds, the Lois Lane series (Fallout, Double Down, and Triple Threat), which brings the iconic comic book character front and center in her own YA novels, and the Cirque American series (Girl on a Wire, Girl Over Paris, and Girl in the Shadows), about daredevil heroines who discover magic and mystery lurking under the big top. She also co-wrote the the Supernormal Sleuthing Service series for kids with her husband author Christopher Rowe, and she created Dead Air, a serialized mystery and scripted podcast written with Carrie Ryan and Rachel Caine.
She has also written for Publishers Weekly, Locus, Salon, and the Los Angeles Times, among others…