I'm delighted DELIGHTED to share the wonderful cover for THE FRAME-UP, aka the magic heist book, today! Along with more information about it and some lovely advance praise (!!!).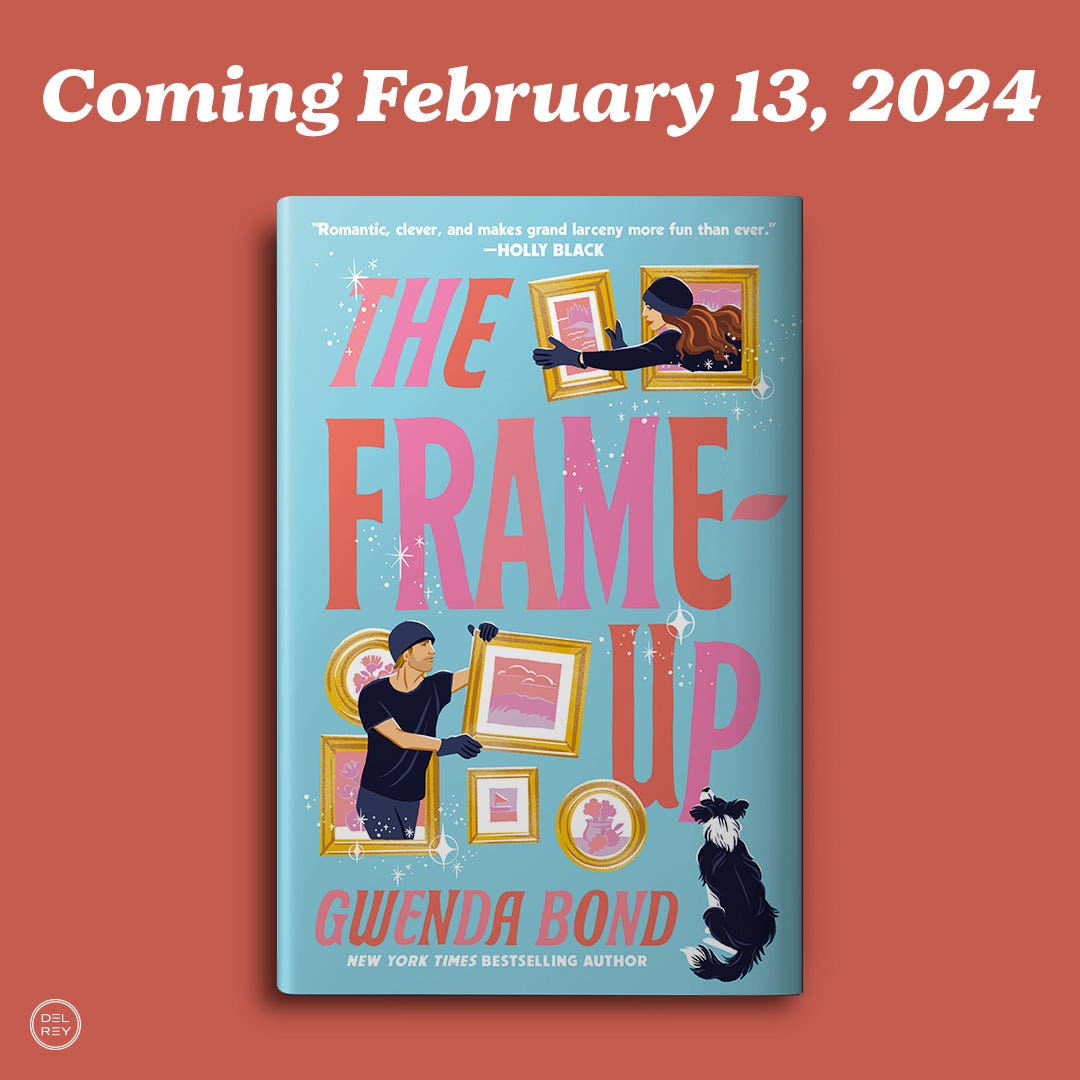 And a little bit about the book!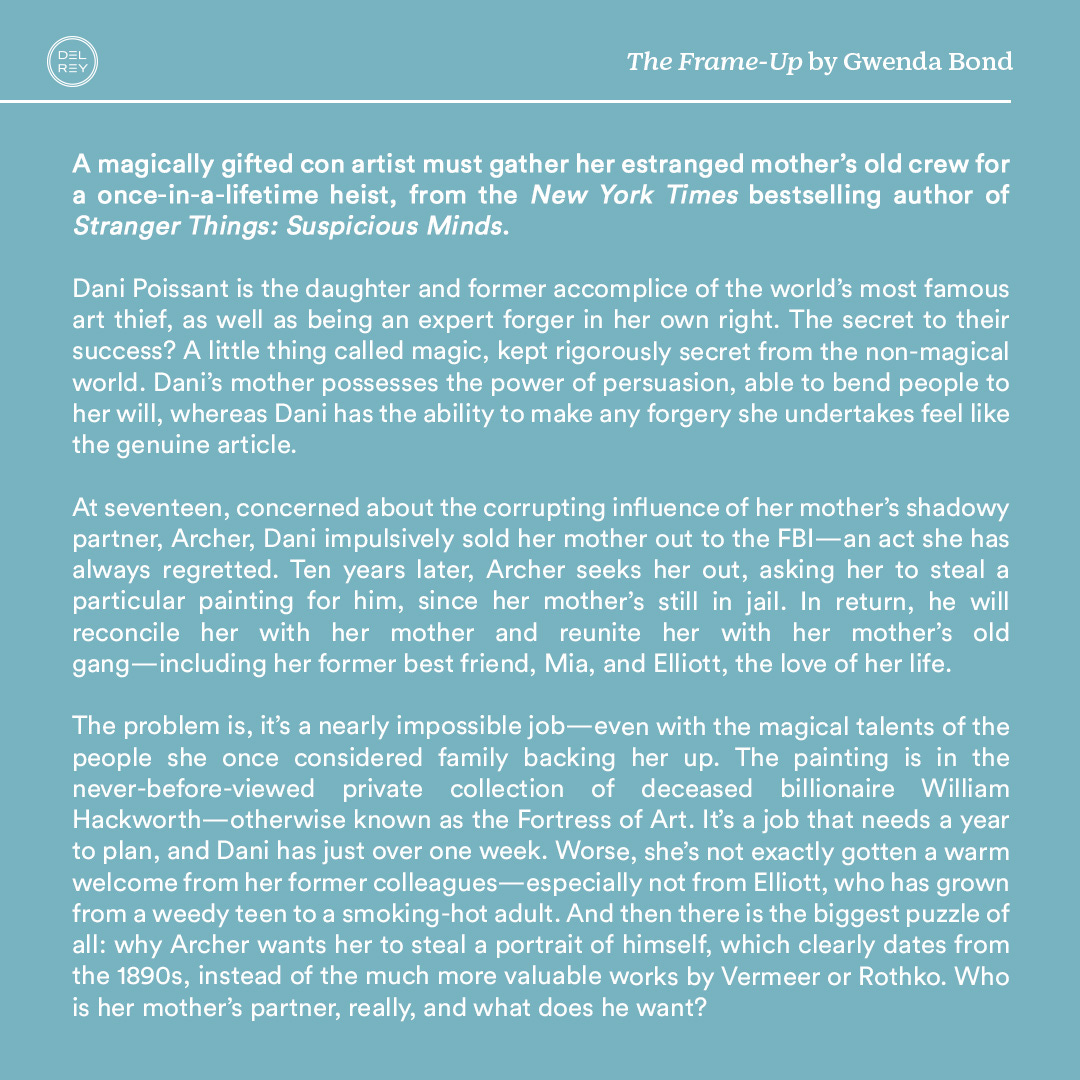 Jacket illustration: Jill De Haan
Jacket design: Regina Flath
I LOVE IT SO MUCH! Also, who's that dog? Her name is Sunflower, but she might be inspired by… SALLY!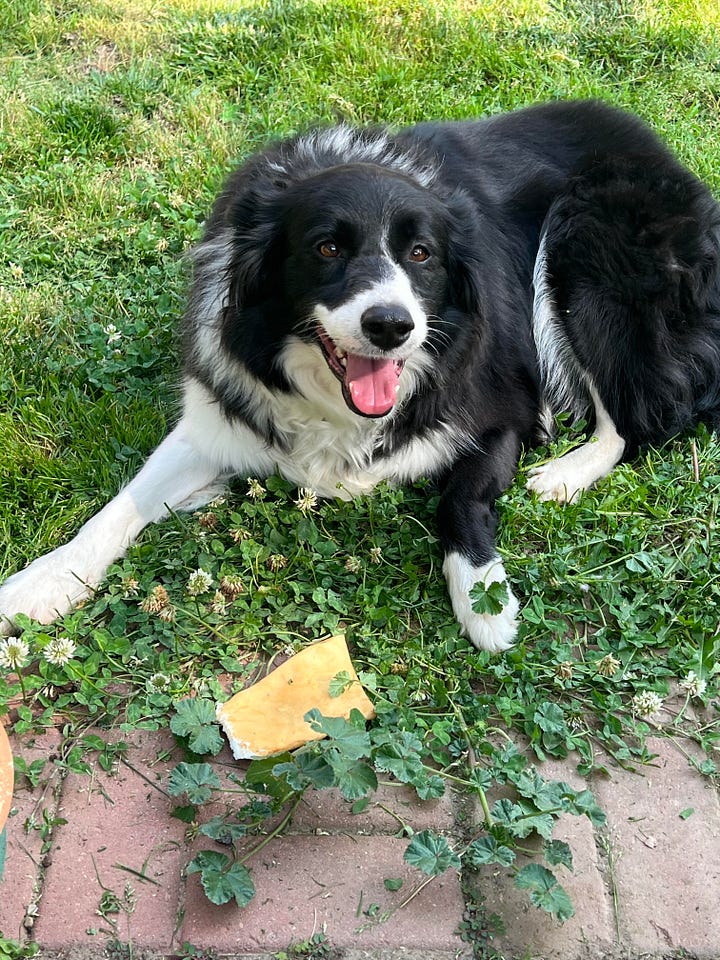 And I've been amazingly blessed to have some early reads by people I consider total geniuses and…they…liked it???
PRAISE
"Between a sheepdog escape artist, a monstrous painting, a team of eccentric criminals, and the finest art thief ever to get her heart broken, The Frame-Up is tense, romantic, and clever and makes grand larceny more fun than ever before."—Holly Black, New York Times bestselling author of Book of Night

"Ocean's Eleven meets the Portrait of Dorian Grey in this delightful magical heist novel. A quirky cast, a charming protagonist, and a fantastic dog. Plus art history, monsters, and family secrets—who can ask for more?"—T. Kingfisher, bestselling author of Nettle & Bone

"The Frame-Up is Gwenda Bond at her absolute best: magical, romantic, and fun as hell. Dani and her crew will leave your pockets empty and your heart full."—Alix E. Harrow, New York Times bestselling author

"A thrilling, twisty, deliciously fun portrait of a magical art heist. Gwenda Bond has crafted a clever Knives Out-but–with-magic book to keep readers guessing where the con will take them next."—Megan Shepherd, New York Times bestselling author of Malice House

"A clever art heist, a smoldering old flame, an irresistible found family tied together through magic . . . Gwenda Bond's The Frame-Up is a twisty, riveting, and fantastically original story."—Elle Cosimano, New York Times bestselling author of Finlay Donovan Is Killing It

"Magic, mystery, and a daring art heist set the stage for Gwenda Bond's twisty, delightful read! Brimming with secrets, danger, and intrigue, The Frame Up explores the lure of power, the bonds of friendship, and the legacy of family. Clever, suspenseful, and impossible to put down."—Megan Miranda, New York Times bestselling author of The Only Survivors

"I love a good heist novel, and I love a good magical heist novel even more. Gwenda Bond's The Frame-Up is fun and moving and full of delicious surprises and twists. I enjoyed it immensely."—Kat Howard, author of the Unseen World duology

"Who knew magic and art heists would go together like chocolate and peanut butter? The Frame-Up is a thoroughly delightful whirlwind of a read."—Alma Katsu, author of The Fervor
"An absolute joy to read from cover-to-cover. As a fan of shows like Leverage and Hustle, I love a good heist pulled off by a crew that is also a (found) family. Add a touch of magic, a mysterious family legacy, a touch of romance, and a Very Good Dog and what you get is a very entertaining novel with a little something for nearly every reader."—Billie Bloebaum, Founder, Bookstore Romance Day
I mean INSERT INTERROBANG HERE.
How can YOU help? The book is out in February, and I left it all on the field this time. I really, really need this book to find its readers and do well. It's a trade paperback original, so just $18 for the hard copy. So, my ask to you is please go preorder? I think it's the best book I've ever written. And I'll have info on how to get signed copies through Joseph-Beth Booksellers later, but for now, anywhere you get books is GREAT. Pre-sales really, really help. REALLY.
And I have been having a crappy year, so this is my one precious ask. Also, encourage your libraries to order, et cetera, and I will remind you again. But why not just go make with the clickety now? Give future you a heist-y present!
Preorder from:
Thank you, thank you, dear readers! And, if you're a reviewer/blogger/early reader type, the book is currently up on Edelweiss and Netgalley!
Now tell me, isn't that cover great? And feel free to ask anything else you want to know! (Yes, it will be available in both ebook and audio.)