NYAHG Author's Note
I've always loved romantic comedies. They're part of my DNA. This is one reason I've joked for years that I'm an escapee from a 1930s or '40s screwball comedy. It's why Cary Grant gets mentioned in so many of my books.
I also love romance in general. It's a genre I discovered as an adult reader and–no pun intended–fell head over heels in love with. Certainly, romance books got me through the pandemic. But they've also just made my reading life that much more delicious. I also feel like science fiction and fantasy help provide constraints, which is one of the things that made those golden age rom-com movies work so well. And I've always loved books that riff on secret societies, on good vs. evil, and with angels and devils and supernatural stuff.
So that's how the stage was set for Not Your Average Hot Guy to emerge. But where did this book actually come from? I was feeling a little burnt out and not sure what to write next. I was away from my desk at the Southeastern Young Adult Book Festival (SE-YA for short) with a bunch of writer friends dear and new. Our hotel happened to be next to Locked and I managed to convince a group of people to go do an escape room based on Sherlock Holmes.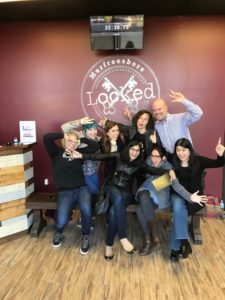 It was a ton of fun, we escaped, and on the drive home, this idea occurred to me. What if you worked part-time at your family escape room business? What if you accidentally had a real magic item as part of it? And what if a cult showed up? What if the other person you had to team up with was from Hell? I'd always been slightly bugged by the weird dynamics of human young women dating age-old creatures (though I certainly read and enjoy many of the books featuring this! no judgement!), and so having the hero be the devil's son seemed like a way to get around that.
I went out to dinner with my friend, the brilliant pastry chef and writer Stella Parks and told her about the idea and that the hero would be named Luke. Her enthusiasm and delight at Luke pushed me to sit down and start the book. It's some of the most fun I've ever had writing, and I wanted it to feel like a safe, nerdy, funny, sexy hug. And that is the story of where NYAHG began. I had no idea if anyone would want the book, and I kept the fact I was writing it secret for some time. I had to stop and write other things, so it took me awhile to finish. But I'm very proud of this one (and its sequel) and I hope you enjoy it. If you do, leave some love somewhere online or recommend it to a friend or ten.