*Originally published on Substack — subscribe there to get posts delivered to your inbox*
The beginning of the year here has been good, stressful, good, and also, I've been sick since it started. Nothing serious, but something that's requiring a round robin of antibiotics to kick, none quite working yet—this is what happens when you push yourself and don't take a break over the holidays, kids. Consider it a cautionary tale. So I'm extra glad not to be traveling this month.
I am digging in on Wayward Sisters #1, which I had to get an extension on, see above. But which is now going really well. And I'm also trying to — well, being forced to — take it easier and not try to do all the things just now. What I have also been doing is watching and reading a lot of things. Some research, but some kismet fun.
I've been forced to discover some time to relax.
And Christopher rediscovered his love of sword & sorcery this year, and while I was skeptical about FANuary—a monthlong watchfest of classic sword & sorcery films, one each day in January, when he first mentioned he was considering doing it: It has been great! See, I love to watch stuff, but Christopher is very picky. (He claims not to watch much TV, but he watches plenty of bicycle races. 😉 Typically, I can get him to watch GHOSTS and WHAT WE DO IN THE SHADOWS, our favorite sitcoms, and that's about it, other than GARDENER'S WORLD.
BUT!
We've kept at this so far; skipped a few, but also had some real winners.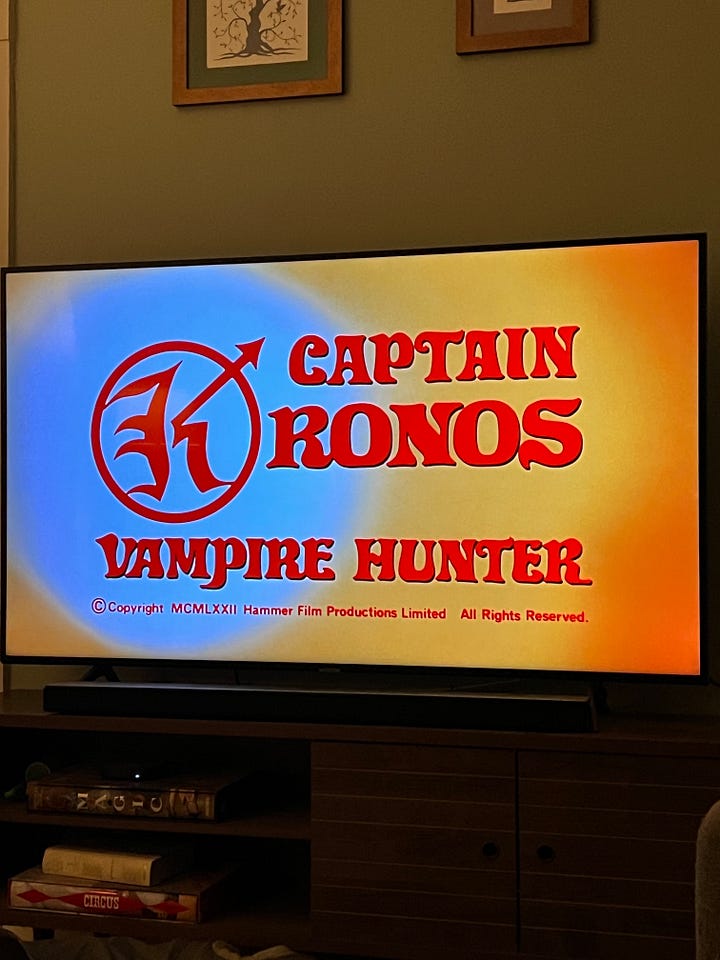 A few notes in the order of the photos above, not the order we watched them….
Captain Kronos: Vampire Hunter: Starts off with a girl admiring the terrible trauma bangs her friend has just cut for her in the woods—the friend goes off to gather mushrooms and think about what she's done or something and VAMPIRE ATTACK! Only this vampire leaves behind an aged corpse! At least the girl never has to know about the tragedy of the bangs. This movie's lore is fantastic, the camp is high, and it is way better and stranger than it has any right to be.
Dragonslayer: I must have seen this before, right? But I didn't remember it, if so. Some absolutely stunning shots—which is only to be expected, given the director and co-writer Matthew Robbins has been a frequent collaborator of Guillermo del Toro (including on the story for this year's Pinocchio) and the cinematographer Derek Vanlint did Alien too (and also a lot of commercials). A baby-faced Peter MacNicol as the atypical wizard hero is fantastic, and there's some interesting gender dynamics throughout, plus a scene that might've inspired Katniss involving a lottery. GREAT DRAGON. Actually, my takeaway from most of these is that you can see the DNA of GAME OF THRONES and Peter Jackson's LORD OF THE RINGS films (not least because lots of these were borrowing from Tolkien) in a lot of them. And also that practical effects are a million times better. And movies 2 hours or less are ALSO BETTER.
I said what I said.
Hawk the Slayer: I'd never seen this, and it's another way better than it has any right to be movie. As the villain, Jack Palance manages to over-act and scenery chew with half his face covered. His most subdued take is the one scene where he should feel emotion. Incredible! Hawk's team and the witch who help him are the best parts, and also, this is the first movie we watched where the women had a real sense of roundedness and agency. The abbess should've gotten to kick some more ass, though.
Jason and the Argonauts: This should be about Medea, who has the most athletic sequence in the movie (don't get me started). Talus was just doing his job. The pretending to push really hard with your facial expression acting of Hercules is something I could do! As is most of the swordplay in this one. I approve of that.
See also, the first day, and the best short film of Woofie and Sally I have ever taken, sound on:
Gwenda Bond is on deadline 🧹🔮 @Gwenda
So @ChristopherRowe is watching a classic sword & sorcery movie each day this month — sound on for full effect (today is The Seventh Voyage of Sinbad)
Tonight is The Sword and the Sorcerer.
Anyway, we've been enjoying this so much that I put together a Romancing the February list, of movies across a bunch of different genres from the 1920s to the now, that feature a love story as a central plot element. This is NOT a HEA list, necessarily, because I wanted some variety. There are some things I haven't seen in ages on there, and a few things that I wanted C to watch that he hasn't (IT HAPPENED ONE NIGHT, for example). Feel free to join in for some or all of it.
For something completely different, the lost part of this entry title, last week I learned about the great Anna May Wong's The Gallery of Madame Liu-Tsong, the first American television show starring an Asian-American lead. The part of the detective was written for her, and reviews were good (and it sounds AMAZING). But the network it aired on, DuMont went under, and then eventually dumped most of their remaining library, presumably including this show, INTO THE HUDSON. I mourn. And I have time machine priorities.
At least we have two books I'm assured are fabulous about Wong to look forward to this year: Gail Tsukiyama's The Brightest Star, which is fiction (I support the HarperCollins Union, by the way, and mention this book in the hope HC comes to the table and concedes by the time it's out), and Yunte Huang's Daughter of the Dragon, a biography. I look forward to reading both.
I leave with you a photo of the first full moon of the year I took, and a reminder that you can preorder MR & MRS WITCH! Out in LESS than two months!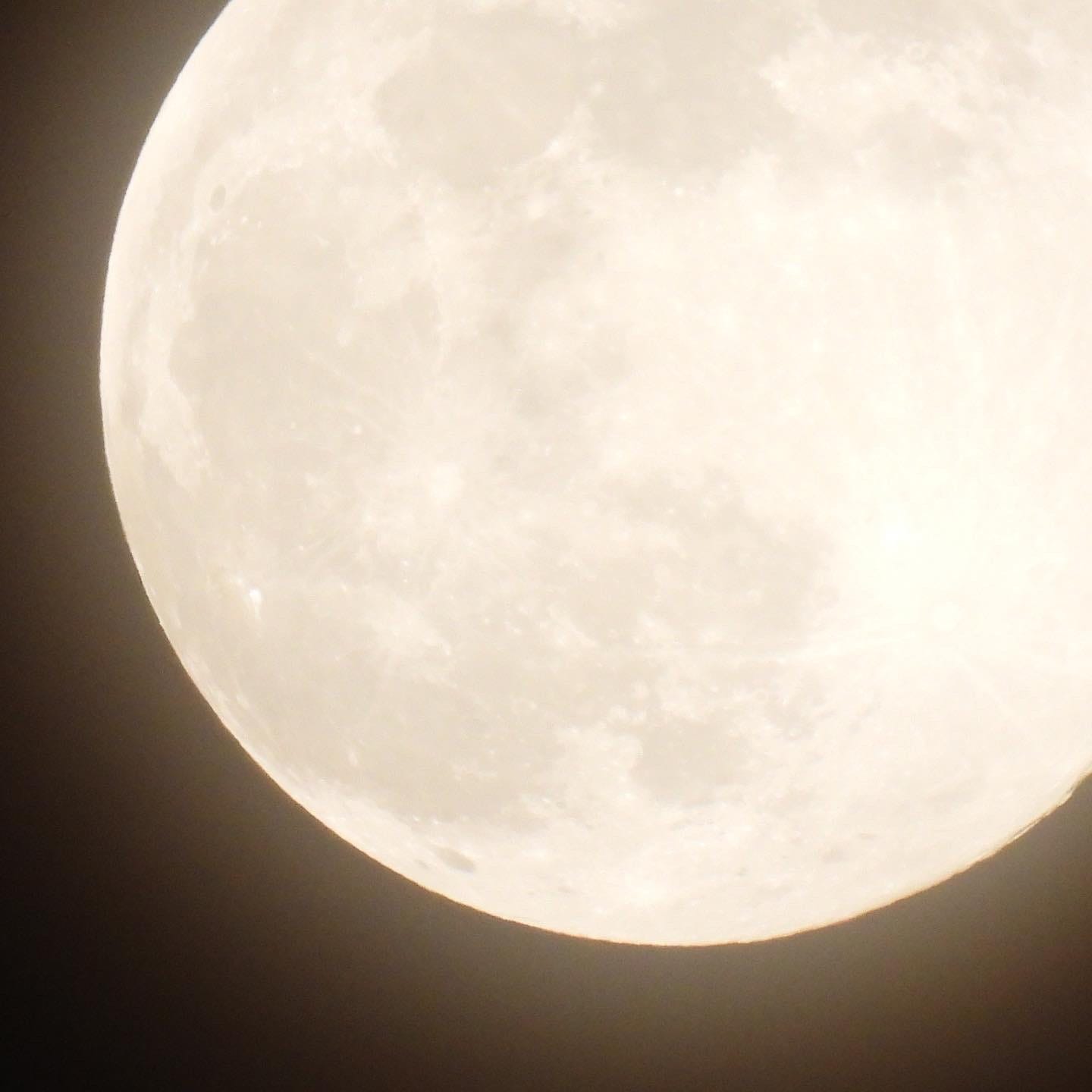 Preordering is caring! So is sharing!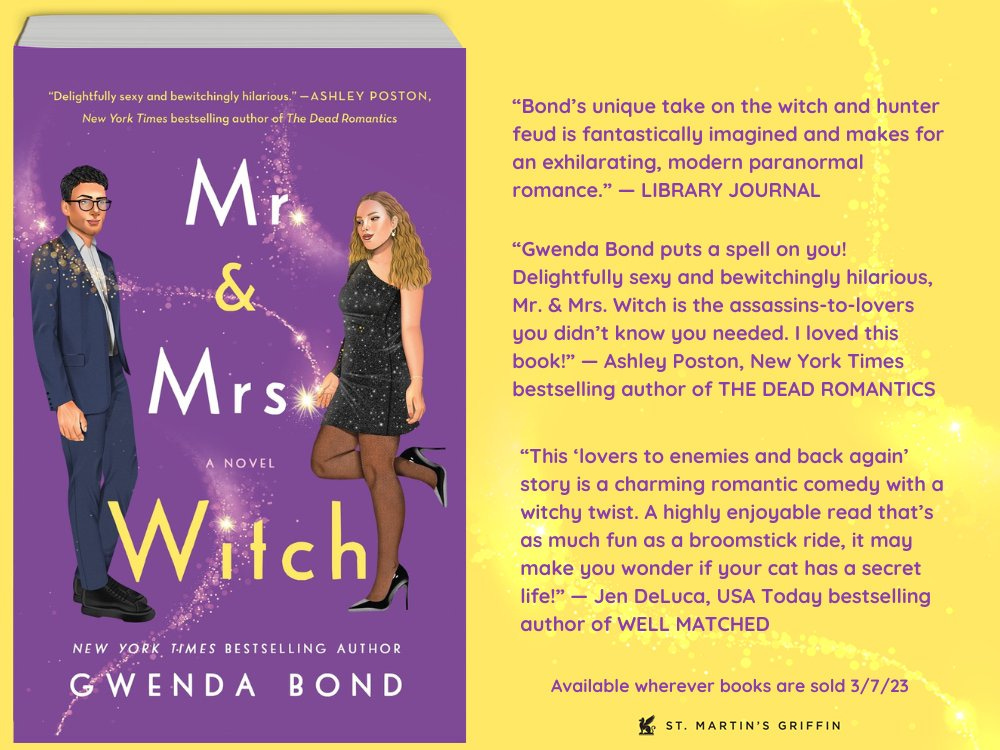 Preorder info: https://tinyurl.com/mrandmrswitch
Signed preorder: https://tinyurl.com/WitchPreorder