As promised, The Woken Gods is now once more available in ebook and for just $2.99! This is what I think of as my weirdest book and it's definitely my most world-buildy. I've often said it's my take on if Indiana Jones was an untrained teenage girl who had to go up against trickster gods in a transformed Washington, D.C. (I even gave her Indy's jacket!) (The sharp-eyed among you may have noticed that Blackwood has once again disappeared; that's because it has found a great new home and I'll tell you more about that when I'm sure I'm allowed to. It'll be back next year though. Yay.)
Here's The Woken Gods new cover and description, and a buy link: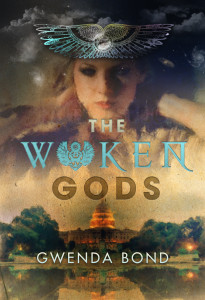 Five years ago, the gods of ancient mythology awoke around the world. This morning, Kyra Locke is late for school.
Seventeen-year-old Kyra lives in a transformed Washington, D.C., home to the embassies of divine pantheons and the mysterious Society of the Sun. But when rebellious Kyra encounters two trickster gods on her way back from school, one offering a threat and the other a warning, it turns out her life isn't what it seems. She escapes with the aid of Osborne "Oz" Spencer, an intriguing Society field operative, only to discover that her scholar father has disappeared with a dangerous relic. The Society needs it, and they don't care that she knows nothing about her father's secrets.
Now Kyra must depend on her wits and the suspect help of scary gods, her estranged oracle mother, and, of course, Oz—whose first allegiance is to the Society. She has no choice if she's going to recover the missing relic and save her father. And if she doesn't? Well, that may just mean the end of the world as she knows it. From the author of Lois Lane: Fallout and Girl on a Wire comes a divinely different fantasy that will appeal to fans of Neil Gaiman, Cassandra Clare, and Rick Riordan.
"Unique, fast-paced, and rife with tension, The Woken Gods brilliantly pits loyalty against survival, trust against inevitability, and love against fear." — Carrie Ryan, New York Times bestselling author of The Forest of Hands and Teeth series
Get it at Amazon (for now, for any kind of ebooks at some point). And if you've already read the book please feel free to review it!
This is NOT the big news of Monday. That's coming later. MWAHAHA. Oh and p.s. the Fallout Read-Along is underway and super fun. Join us!