OH. MY. WORD. I have never wanted to blab so much about anything, and yay, today we finally get to tell you about a project that's been months in the making!
My divine editor for Girl on a Wire and Girl in the Shadows Courtney Miller and Jet City Comics editor Paul Morrissey asked me last winter if I would have any interest in telling a side story about the Cirque American, perhaps set between Girl on a Wire and Girl in the Shadows, IN COMICS. And who is on my dream team list and they'd do their best to get them on board.
Of course, I said YES and proceeded to name my favorites. Never in my wildest dreams did I think we would actually get Kate freaking Leth on board to write and Ming freaking Doyle on board for the art. But we did! And so we've all been working on a four-issue miniseries that will come out starting in July, to your local comic shop and Comixology, and then be available in a bind-up thereafter. Today we get to show you the cover for the first issue and reveal a little about the series. PREPARE TO SWOON at Ming's beautiful cover.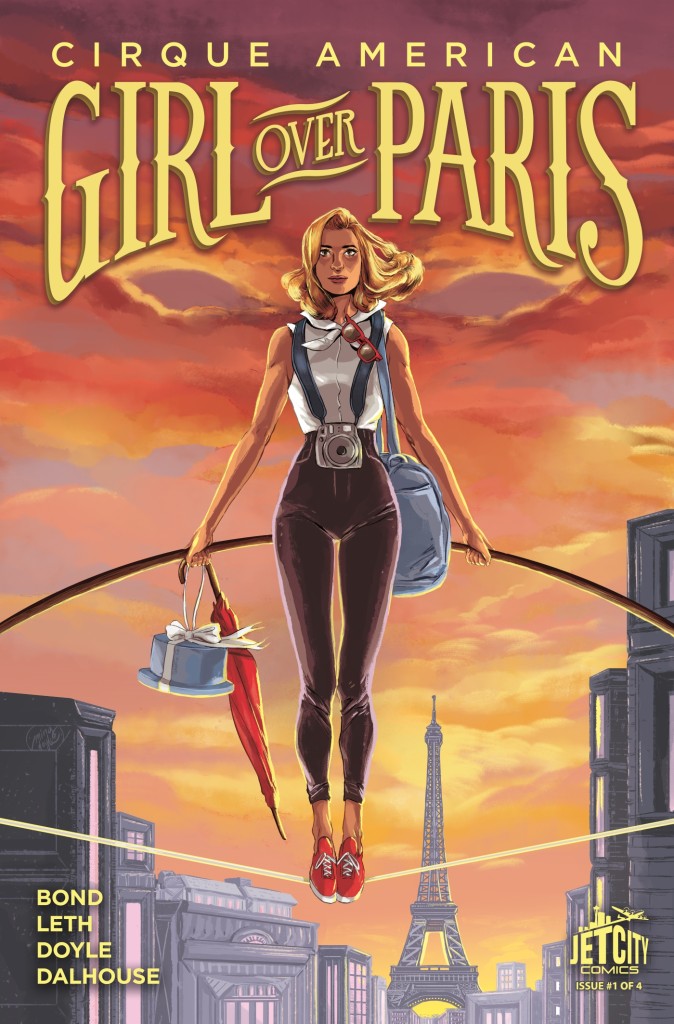 Issue 1 Description / Series Description
From acclaimed fantasy writer Gwenda Bond (Girl on a Wire, Girl in the Shadows), this four-issue comic book series features a new stand-alone story set within the world of Bond's exotic, magical Cirque American. Written by New York Times bestselling comic book writer Kate Leth (Patsy Walker A.K.A. Hellcat, Adventure Time: Seeing Red) and featuring stunning art by acclaimed artist Ming Doyle (The Kitchen, Constantine: The Hellblazer).
After a high-profile tumble, Cirque American's star wire walker, Jules Maroni, has a lot to prove—and her invitation to an exclusive exhibition in Paris looks to be just the opportunity to put her back on top. Unfortunately, the City of Lights glitters with distractions, including the presence of her first serious boyfriend and a mysterious figure haunting the venue.
*
Jules and Remy are going to Paris! There will be high wire walks above the city and drama and perilous trips into the Catacombs and I just can't wait for you guys to read this. This project has been such a gift, and I'm learning so much working with these two wonderful geniuses. You can order the first issue on Amazon now and on Comixology or ask your local comic shop to order it for you (it'll be in Previews in May!). It comes out July 6, the day after Girl in the Shadows release day. More to come.
You absolutely can read this without having read Girl on a Wire or Girl in the Shadows, but it will be extra fun if you have read Girl on a Wire I think!
EEE!