Good morning, dearies. I hope your clocks are all reset and the sun is shining to compensate for the blergh of DST. I think perhaps I will get to reveal to you a MOST EXCITING THING this week (finally!), but today some miscellaneous things.
I wrote a piece about why Lois Lane matters for the Guardian (!!), which ran on Friday. I'm really proud of how this turned out, so check it out and share if you're so inclined.
I also did a 10 Things I Love About Lois Lane for Maximum Pop.
I'll be chatting with Mariam Khan (and you?) for #FeminisminYA at 7:30 p.m. UK time/3:30 p.m. Eastern Standard tomorrow on twitter.
The ebook sale is almost over! So click with the clickety if you haven't! And if you're an ebook fan, it looks like the preorder of Double Down is also on sale. I'll put up the details for the group read-along of Fallout later this week, but basically we'll have a hashtag and I'll be lurking to answer any questions during discussion on a certain evening each week covering a few chapters for the next month.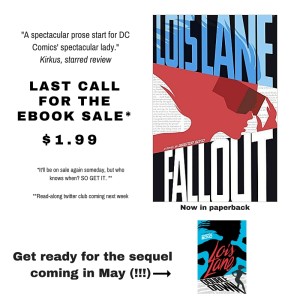 Last but not least, if I met you at SEYA you were delightful. What a fun time that was. And now back to work.