The best thing about a bunch of your friends having new books at the same time? You can tour together!
And so five of us are this week. We decided to call this the Dangerous Ladies tour, because it fits both the leads in our books and ourselves.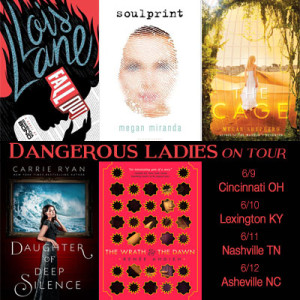 Who? Did you say new books, what are they?
Me – with Lois Lane: Fallout
Renée Ahdieh – with The Wrath and the Dawn
Megan Miranda – with Soulprint
Megan Shepherd – with The Cage
&
Carrie Ryan – with Daughter of Deep Silence
When? Where?
Tuesday, June 9 – Joseph-Beth Cincinnati at 7 p.m.
Wednesday, June 10 – Joseph-Beth Lexington at 7 p.m.
Thursday, June 11 – Parnassus Books in Nashville at 6:30 p.m.
Friday, June 12 – Malaprop's Bookstore in Asheville at 7 p.m.*
I'm sure any of these fabulous stores would be happy to hook you up with signed copies if you can't make it; check out their websites or give them a call. But if you can make it, you should. I think it'll be fun.
*Megan Miranda, alas, will not be with us at the Malaprop's event. We will tell all her secrets.