So…today is The Day. The day in which a book I wrote, Blackwood, is Officially Published. (Manifold buying links at this page; so cheap–buy two! *ahem*)
I won't go into the story of the looong journey toward this, because there will be quite a few interviews and guest posts and such over the next couple of weeks that do that. Also, because it barely feels real, even though I've seen, signed, and watched books sold already. 
Mainly, I want to say thanks so much to everyone who has already supported my little book and/or me and to say I hope those of you who pick it up enjoy it. If you do, I'd be delighted if you tell a friend online or off, suggest it to your favorite teen, leave a review somewhere, or drop me a tweet to let me know. It was a fun book to write, and I hope it's a fun book to read.
If you want to know more about how Blackwood developed from a writing perspective, I'm over at Scalzi's giving The Big Idea behind it today. AND I'm also at Mary Robinette Kowal's talking about My Favorite Bit (conversational snippet alert).
Some links:
Last but not least, Asheville! I will be visiting you tomorrow as part of this event with fancy people:
Come out!
Also, I'd be remiss if I didn't say how great WorldCon was (if I had more time I'd do a full post about it!). It was a complete delight to see old friends and meet new ones, as usual. I was on a fun panel with excellent people (including the hilarious Leigh Bardugo), did a reading from Blackwood and the current draft of The Woken Gods, and got to hang out with Erica from excellent blog the Book Cellar afterward. It was also great fun to hang out with so many fellow Strange Chemistry authors. Here's a pic editor Amanda took of me, Kim, Cassandra Rose Clarke, and Julianna Scott in the bar on the first day: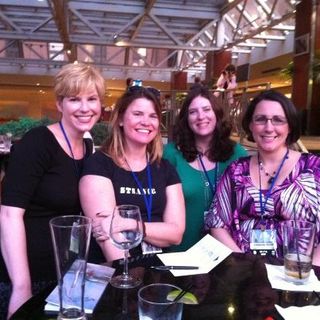 Would love to see pictures if you encounter Blackwood in the wild!