So, a trip report is merited, I think. Though I'm still a bit whirlwinded from the whole thing. Where to start?
Oh, yeah, THIS HAPPENED: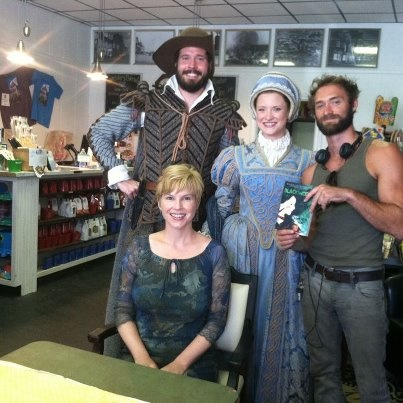 That would be me with several actors from The Lost Colony and the first-ever sold-in-a-bookstore copy of Blackwood. More on why this is basically the coolest thing that could have happened in a moment (though if you've already read the book, you understand).
Now that I've got that out of my system, I'll try to be more focused. Also, lots more photos ahead.

Christopher and I drove down to the Outer Banks, where we were staying at the First Colony Inn, across the bridge from Manteo on Nags Head. It was the only place I could find rooms online on relatively short notice, with it being peak tourist season down in the OBX, and so we didn't know what to expect. Well, it's a lovely historical property with a fascinating history of its own–a classic beach-style hotel that opened in 1932, which was moved three miles up the beach and refurbished in the late '80s–with rooms named after the colonists. (Perfect, right? We were in the Clement Tayler room.) The staff were all supremely nice, the walk to the beach was short, and they had a great little second floor library (in which I may have left a copy of Blackwood). No bedbugs. So far, so good. But…
I was mega-nervous about the signing. (As those of you who reassured me on facebook know already.) This was my first one, after all, and the book isn't even officially out yet. Also, we don't have relatives and friends on Roanoke Island who could be coaxed out, and so what if it was a bust? I knew the co-owner of Duck's Cottage Downtown Books in Manteo Jamie Layton (bless her!) had gone above and beyond to spread the word and a few advance copies around town but…still nervous. What if we didn't sell any books after her effort? What if townspeople showed up who were not happy about the book and the ways I fictionalized the town? I really didn't know quite what to expect.
The event exceeded any expectations I could possibly have had. First off, Jamie is wonderful, and her store is a very welcoming place. (They've only been in the spot since March of this year, having resurrected the space after the previous tenant Manteo Booksellers closed post-hurricane.) And she'd contacted The Lost Colony theater and arranged to have the actors who play Eleanor Dare and John Borden on hand in their gorgeous, stunning costumes.
For those of you who haven't read the book yet, the reason this is so significant is that my fictional versions of The Lost Colony show and Waterside Theatre–very much inspired by the real ones–play a big role (no pun intended) in Blackwood. Miranda Blackwood is an intern at the theater, as is another character, and much of the main action revolves around it. Eleanor Dare is a significant character in the story. (The actors, who know their history back and forwards, told us John Borden was actually a 14-year-old boy on the voyage, but in the show is aged up to play a romantic male lead.)
Honestly, I don't know how anything better could have happened than the people from the show coming out and being so supportive.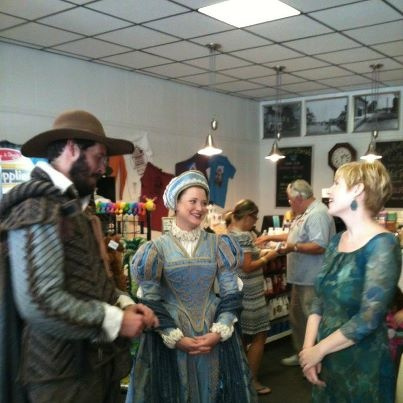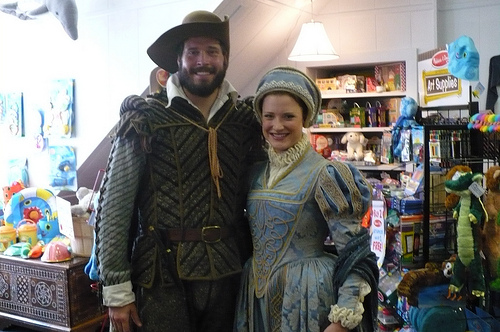 (Eleanor Dare is played by Sydney Mitchell, and you can catch her in many shows in the Raleigh-Durham region this fall; John Borden is played by Konrad Case, and you'll soon be able to catch him in many places with a touring show of West Side Story. I wish you could see how exquisite the costume detail really is in these shots. Obviously, catch The Lost Colony too, if you get the chance.)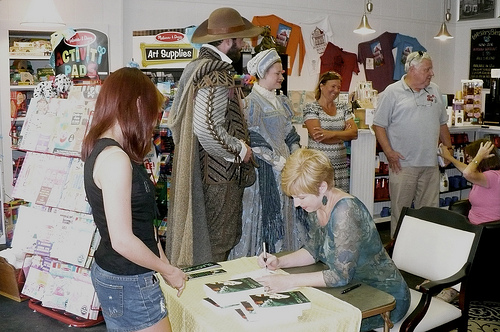 That's one of the show's current interns I'm signing for above. And I got to talk to the other current intern, too, who told me all about the excellent, fun theater the local high school does. It was such a pleasure chatting with everyone from the theater and hearing about parts of the book that resonated for them or characters who matched up with the real show in uncanny ways. Plus, many great theater stories. And the rest of the afternoon was filled with meeting a lovely mixture of local folks and tourists on vacation stopping in, and signing books for quite a few of them. The girl also buying Salvage the Bones who I signed for reminded me of myself in high school, and I got to talk to several young writers throughout the day. Both Christopher and I very much enjoyed talking about Game of Thrones and many other things with vacationing poet Anne Jennings Paris, whose collection Killing George Washington sounds wonderful. The day was an absolute blast.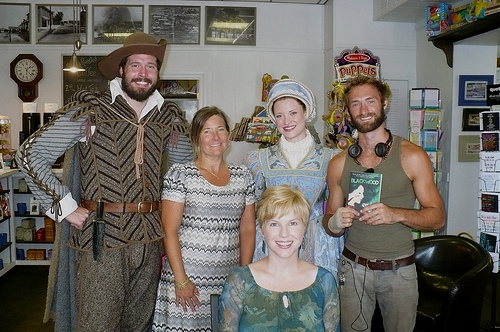 So, one more signing pic above, with bookseller extraordinaire Jamie in the shot. (Thank you again for everything.)
The next day we drove around the island, visiting some haunts featured in Blackwood. You can find the entire photo set here, but a few more gratuitous pictures ahead.
Waterside Theatre, from the back of the house: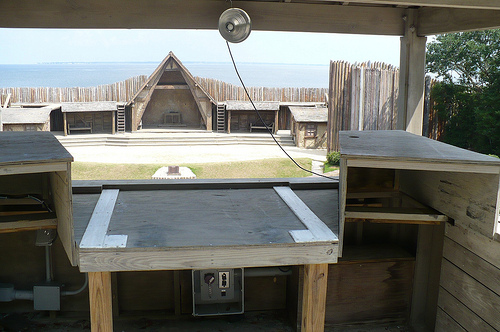 Me and a prop tree at the theater: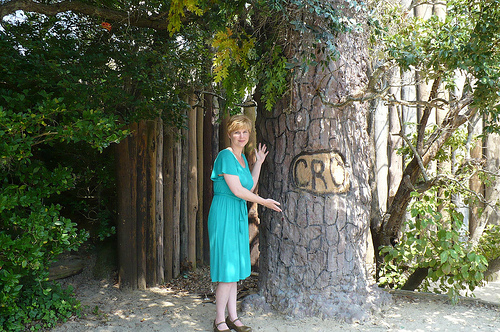 A storm blowing in over the Manteo waterfront: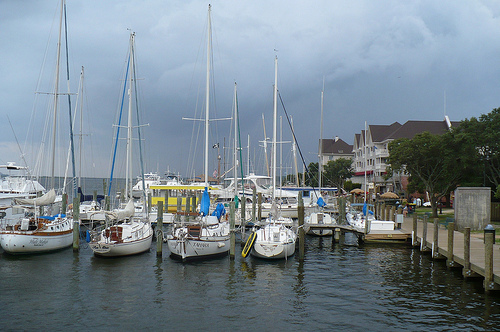 The bridge where Miranda takes a walk: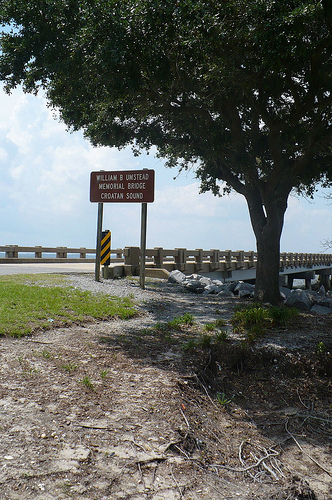 And, finally, welcome to one of the most beautiful places on Earth. Hope we get to visit again soon: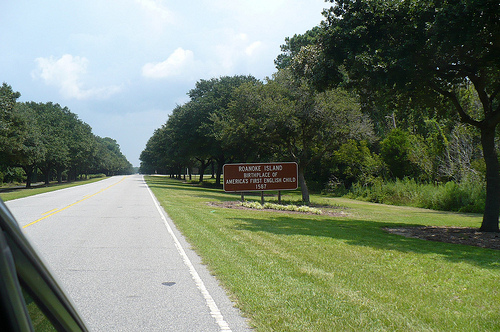 Thanks, everyone, for showing this newbie author such an unforgettable time. I'm forever grateful.