Last night I started thinking about where I was this time last year and how much has changed since then.
We were in Vieques, on the only real and true vacation we've ever taken (thanks to Kim O'Donnel and Russ Walker for that, and a fabulous trip). I was just about to finish up a major revision of the novel that's now called Blackwood, and I was feeling a bit at sea about where I might be headed. Would I ever sell a book? I wasn't sure, but I knew I'd keep writing them regardless. I already had a little bit of a beginning of a new book to work on next, but I wasn't sure about it. And so, mostly, I was just trying to make that book–then called Strange Alchemy–as good as I possibly could at the time.
I'd been on my own with the dogs for the week before and hadn't slept much and had developed a theory that maybe I didn't need to sleep anymore, or only a couple of hours a night, something I refer to as "becoming Bill Clinton" (get your mind out of the gutter: this was because he famously didn't need much sleep; I envy people with this evolutionary advantage). Luckily, this insomniac mania wore off after a day at the beach on island time and I did not go insane and start believing I was Bill Clinton.
Anyway, my birthday was the following week, and I'm coming up on a birthday this week (Thursday, to be exact), so maybe that accounts for the stock-taking. But, also, sometimes I have a tendency to just keep working nonstop, which means not pausing to appreciate Something Big Happened.
It's hard not to notice, though, comparing this year and last year. I did sell a book (thank you thank you again to superagent Jenn and supereditor Amanda), and it will be out in two months. I'd be spending a lot more time worrying about whether or not people will like it (yes, okay, I'm still spending too much time doing that), but I have a second book to turn in soon. And I'm just about to start revising it, so that will happen. I love this book and it's sooo scary trying to make it what I want it to be and believe it can be (and on time). Both the love and the fear are necessary, and planning. Pause for gratuitous shot of desk prepped for revising (click through for annotated photo):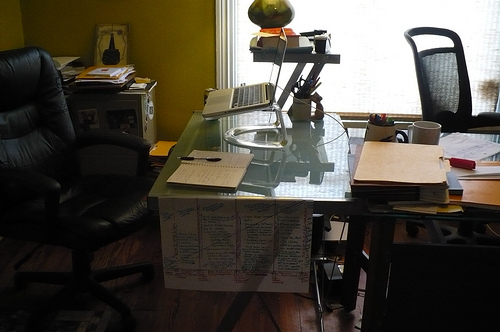 Anyway, long way of saying, I'm in a much different place this year…in some ways.
But the main thing I'm worried about now is the same thing I was worried about then. The focus is exactly the same: on making the book the best I can at this time, and then once that's done, writing another one. The focus is on the writing.
And when I think about the future and what I want for my career, sure, there are more specific things I'd like to happen. But mainly I just hope that I will be able to keep telling stories and that some of you (and some people who aren't you! total strangers who don't know I exist!) will get something valuable out of those stories through that magical collaboration of writer and reader.
I also want to say to those of you still in the query and/or submission stage that you know as well as I do the important thing is to keep working, because you never know. The imprint I'm being published by didn't exist yet at this time last year, but I feel SO incredibly lucky to have landed there. I pinch myself daily. And when I think, Hey, I sold a book and it will be in bookstores! Holy crap, Something Big Happened! what I also think is that it wasn't magic. It was something I worked really hard for, for a really long time. And, honestly? That feels like the biggest achievement. Giving up is easy. But it's not for writers, mostly. Writers risk failure and rejection every single day. It's not for cowards.
And at the end of the day I truly believe what matters most* is the same for all of us, sold and unsold, beginners and those well into their careers**: one word in front of the other. Keep moving. Keep writing. Keep trying our hardest to get better.
Meanwhile, I hope the surprises this year has in store are as good as last year's.
*'What matters most' is chosen carefully here. Obviously, we all have lots of concerns based on our careers and individual circumstances, but from my vantage this is nearly universal. It's the only part we truly have control over, so it better be.
**Although I could be wrong about this. It's entirely possible once you get further into your career you worry about bears or clown attacks.