We set out late-ish Friday on the open road, or at least the interstate, armed with more books than we'd need and a big bag of snacks from the coop (dried mango, sesame sticks, trail mixy stuff, granola bars–you never know when you might have to trade organic food for gas or your life, so we were well-prepared) and several sets of maquest directions for the Epic Road Trip, June Edition. Such an epic drive seems to demand an epic post filled with parenthetical asides.
The first leg of the trip, of course, was Washington, D.C. ::pause during which we all sing the Magnetic Fields song, yet again:: And that's well photo-documented, because I was taking lots of reference photos. The ones on Flickr mostly aren't those, because I'm thinking tile patterns and trim would be…boring. Although they were fun to take. For example, I kept getting trapped on elevators at the Library of Congress photographing the detail above the doors. Many strange looks were given, including several from Christopher, who had to stand waiting for me to make the return trips. But at least I wasn't being mocked by this guy: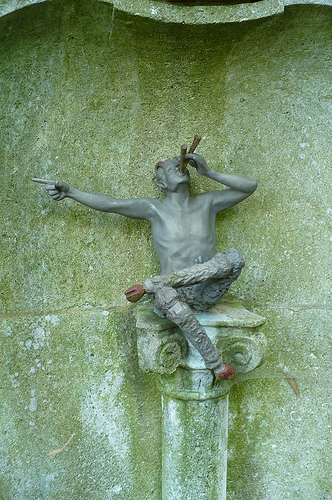 Anyway, I can't go into specifics just yet, but all this relates to the book that's due next month, which is set in an alternate version of D.C. More details on that coming, including a title…as soon as we settle on a good one. (Non-breaking news: Titles are HARD.) And we managed to see writer friends who live in the area–Craig Gidney and Jess Leader–which is always an excellent thing.
Then it was on to NYC–or, in reality, to New Jersey, where our hotel was–for BEA. We got in on Monday night, schlepped over to Penn Station and headed into town for the evening. Our first stop was meeting up with Genevieve Valentine, who we really can't ever see enough of, for drinks and dinner. Well, Christopher and Genevieve had dinner, and tempted me to eat bites of their delicious foodstuffs. Then we got The Best Cupcakes at Kyotofu, after Genevieve convinced me I could get mine in a container for later. Cupcake-for-Later = GENIUS when you have to take a train back out to New Jersey late at night. Super city-navigatrix Genevieve and Christopher then escorted me to my other dinner, and headed off to the Bookrageous party, followed by an exodus to a bar where they saw an actual fight. Literary fisticuffs were in the air, people. (Actually, the fighters weren't lit types. But still.)
Meanwhile I got to have the most fabulous dinner with Best Agent Ever Jennifer Laughran (alias: Literaticat) and a few of her other clients, Fiona Paul (aka Paula Stokes), Jo Whittemore, and Kate Messner. Here's a photo Jo had the waiter–who turned out to be a comic book fan, with good taste no less (Grant Morrison's run on Doom Patrol!)–take of us, in which it becomes apparent that I must have supernatural eye laser powers:

(Alas, I ditched the camera for the New York leg, so I have no pictures of my own.)
This was so much fun, I can't even. I'd have dinner with this group of ladies every night of the week. We closed the place down.
And then it was Tuesday, the first day of BEA.
Here's the thing about BEA: It can be soul–and feet–crushing if you let it…because it's a trade show. And trade shows are innately depressing. It is best looked at sideways and traversed quickly with an eye toward finding the people you want to see. I also pick up as little swag as possible (in fact, this time around nothing), because books are heavy and my bag already weighs a bazillion pounds. (Though I do wish Chronicle still gave away those great notepads from lo many BEAs ago, because I finally ran out.) (See also: Emily Gould's account for the Awl, which is both funny and accurate.) What saves BEA, of course, and makes it still fun is that while it's (yes) a trade show, it's a trade show for books. Which means there are lots of book people there–booksellers, publicists, editors, agents, sales reps, authors, bloggers, industry reporters–and book people really are the loveliest people. Plus, they understand that the grimness of a trade show is directly proportional to the amount of free booze (and parties) on offer.
And so while I understand the complaints about BEA and, oh boy, the terrible awfulness of the Javits Center, I also enjoy it. This year was my best time to date, although I missed seeing and meeting a bunch of people I'd have liked to because I was rarely on the floor and lower level cell service should be studied by black hole experts. But I did get to spend decent chunks of time with several people–Micol Ostow and Melissa Walker, Laura Miller (even better in person), and my PW editor Dick Donahue (who I'd never met, though we've been working together for years now). Sheila Ruth kindly invited me to grab post-show drinks with a group of bloggers; it was nice to hang out with people I've 'known' for so long online, like Sheila and Pam Coughlan.
Because I'd already bumped into my editor Amanda Rutter (who is ABSOLUTELY WONDERFUL AND AMAZING–more on that in a moment), I knew that Osprey's most excellent product manager John Tintera had a Blackwood ARC for me…and so I was prepared and didn't burst into tears when he produced it at drinks.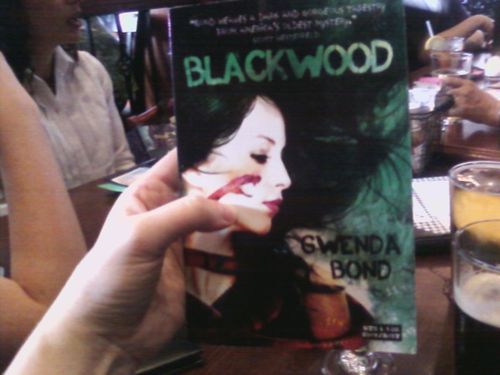 You really can't see the beautiful shine to it in this photo, so I'll try to take a better shot later for proper admiration. (I hear the UK ARCs are matte, btw. I'm glad my book is getting the best of both ARC worlds.)
This was all followed by some of the best Korean bbq (or Korean/Japanese fusion bbq, actually) I've EVER ever had with Amanda and John, who I could go on and on about the sheer wonderfulness of. Just let me say, I can't imagine better folks to be working with. *happy sigh* (Christopher was off at a Liberty game, having his own fun.)
The next morning was meetings at Javits, and while "meetings at Javits" may sound like a circle of hell, in practice it was lovely, because aforementioned book people were involved in them. I was lucky enough to meet several of the sales team for Strange Chemistry here in the U.S.; a truly engaged, sharp, and delightful group. It was also the first time I've really gotten to talk about Blackwood with people who've read it (who I don't know, at least), and that was fun too. And I got to hear Amanda describe all the TERRIFIC-SOUNDING books on the list and the imprint's grand plans and bask in her savvy and clear passion for YA in general and Strange Chemistry in specific. *happy sigh dieux*
Also, the pirates from Bridge Publications randomly sat down at our table, mere moments after Olivia the Pig walked by. These two things would really only ever happen at BEA.
Christopher and I had a final lunch with Amanda and John, said our farewells, and returned to the open road, feeling a bit kamikaze about the eleven-hour drive ahead. It was mainly through beautiful mountain country, though–Maryland and West Virginia–and there was a spectacular sunset. We made it home around 3 a.m., having listened to what feels in retrospect like a thousand episodes of This American Life, Studio 360, Stephen Fry's Podgrams, and RadioLab. There are worse ways to spend eleven hours. There are definitely worse ways to spend six days.
And now I have a book to finish.
Final mapquest tally: 23 hrs 47 mins / 1453.25 miles.