What do these things have in common? They have made my sickbed languishing this week far, far less obnoxious*.
I'm feeling better today, finally, though off to the doctor anyway to make sure I don't now have a sinus infection as I'm still Not Well and my left eye's a bit swollen. But a list: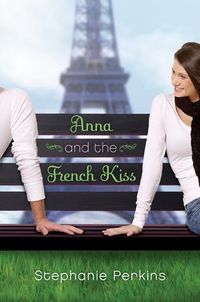 1. Anna and the French Kiss by (the delightful) Stephanie Perkins. How much do I love this book? So much I stayed up half the night to finish it even though I was on major league nighttime cold medicine. I'm  sure you've heard many wonderful things about it already, and I've been looking forward to it for an age; it really did live up to my every expectation. An absolutely wonderful and rare contemporary YA romance, an impeccably executed story both frothy and substantial, and well worth your time. Anna, her friends and family (especially her dad–Nicholas Sparks, your ears are burning) all feel absolutely real to me; every character has their own compelling narrative, which makes for crackling scenes and the kind of rich world so essential for boarding school stories (in this case SOAP, the School of America in Paris). This book also has two things I wish I saw more often: a love story based on a real friendship (swoon) and friendships between girls that are believably complicated and important to all parties involved. Plus, they go see It Happened One Night.
2. So the only thing I could find a true marathon of on Tuesday was Millionaire Matchmaker, a show I was unfamiliar with previously. I was ambivalently switching back and forth between Portia de Rossi on Oprah (did you know she made up her name after she and a h.s. track competitor shared the same one?) and this show until Judith Regan turned up as a matchmakee. I couldn't. look. away. A lot of these guys though, clearly serial killers, and even some of the women, wow. And I just love these cattlecalls they hold to "cast" the soulmates and then there's this one episode where they are surprised to find a golddigger in the ranks and, really? You're introducing people to millionaires and they have to stand in front of you in an open call and be humiliated by charmingly frank assessments and they're not supposed to be golddiggers? "Oh, I'm not a golddigger, I just think that I would have a lot in common with a millionaire." Um, sure. Also, apparently all redheads must dye their hair if they want to find love. This show is CRAZYTOWN.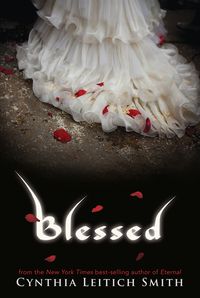 3. Blessed by (the wonderful) Cynthia Leitich Smith. I've been looking forward to this one for MORE than an age, since long-time readers will remember how much I ADORE its predecessors Tantalize and Eternal. Blessed rounds out the trilogy (are there more? I shall find out), and is a direct follow-up to Tantalize, bringing back teen restauranteur and (not-really-a-spoiler) newly turned vampire Quincie Morris. Characters from Eternal soon show up on the scene, including guardian angel Zachary, and Quincie's going to need them because not only is her maker Brad going Dracula in her dreams, everyone who had the chilled baby squirrels he prepared at her vampire-themed restaurant has been infected and will soon go vamp too… unless she can stop it. And did I mention her best friend Kieren (more best friend romance, yay!) who she's recently hooked up with is now disappeared to a secret wolf pack locale? Yes, yes, you must read this one. Even if you are totally sick of werewolves and vampires and angels. (Did I mention there's a werepossum?) This series is set apart by its rich, quirky universe, the way Cyn plays with gender dynamics, and how truly funny and poignant it is. Not to mention it's in direct conversation with Bram Stoker's Dracula. I. Loved. It.
4. Circus. My long-time fascination with all things circus-related will surprise no one. Anyway, Barb and Richard were here for the New Year's weekend as usual, and by Sunday sick girl was really not wanting to do much of anything but laze on the couch and watch television. Luckily, I had all six hours of the Circus documentary series about a year in the life of the Big Apple Circus, which aired on PBS earlier this year, stored on the DVR. Every time I'd turn them on in C's presence, he wasn't interested (despite the fact that his book is a fabulous circus book), but Barb turned out to be the perfect viewing companion. We got completely sucked into the personalities and dramas (I still want to know what happened to horse groom Heidi, and hope she makes her way back to the circus). It was highly enjoyable, and now I'm toying with a circus book in my backbrain. Also, I so wish there were trapeze classes around here somewhere.
Next up some Dia Reeves and, hopefully, being WELL.
*Does not deal well with forced breaks. And, in all fairness, the millionaires part was kind of noxious.