I'm working on a 2010 wrap-up piece with my take on "the best" SFF reads in YA and otherwise that'll appear elsewhere later this month, but I wanted to do a different sort of list here. I read my usual assortment of lots of types of books this year, except I also added a lot more romance in the mix. I've been reading a smattering of urban fantasy the past few years (Ilona Andrews, Marjorie Liu, Rachel Caine, Devon Monk, Patricia Briggs, et. more), and many feature prominent romantic elements. But after writing a couple of PW pieces on romance, I really wanted to feel better versed in the core genre.
I started by finally reading Jennifer Crusie, and, boy, did that quickly become an obsession. I tracked down her entire backlist and read everything she'd written in about a month. Then I started shopping for readalikes and branching out a bit.
The thing about starting to read in any genre you aren't overly familiar with is that it can be very hard to figure out what to read. I was incredibly lucky in that regard, mainly because of go-to sources of awesome recommendations, in particular: Dear Author, Smart Bitches, Trashy Books, The Book Smugglers, and Rose Fox on twitter and (sometimes) at Genreville. (And through fellow readers elsewhere; you know who you are.) I found it INSANELY handy to use the rating/grade reviews on several of these sites, browsing the highest ones for titles that appealed. I figured it would be worth posting a list of some of the best romances I read this year, because there might be readers of this blog who'd like to mix in more ro-to-the-mance, but don't know where to start.
An idiosyncratic sampling of some highlights (by no means comprehensive) behind the cut:

Jennifer Crusie: Just give up and read them all, okay? My own personal favorites are probably Faking It, Welcome to Temptation and Bet Me, but I love them all.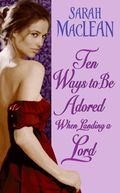 Nine Rules to Break When Romancing a Rake and Ten Ways to Be Adored When Landing a Lord by Sarah MacLean: I bounced off all the Regencies I tried before Sarah's, but fell in love with Nine Rules. Superhot, decidedly feminist, and the sort of books that make you laugh out loud. And they served as my entry point to other wonderful historical romances.
"Here There Be Monsters" and The Iron Duke by Meljean Brook. My biggest and best discovery of the year. Oh, how I love the insanely rich and thoughtfully-developed steampunk world of the Iron Seas series. From the first page of the introductory novella I was hooked, and immediately begged an advance copy of The Iron Duke and devoured it. I absolutely can't wait for the next installment. Detective Inspector Mina Wentworth is one of my favorite heroines of all time now; more kraken-slaying ladies, please.
Proof By Seduction and Trial by Desire by Courtney Milan. Both these books are smart, sexy, and have heroines and heroes to die for. I'd suggest pairing Trial by Desire with Sarah MacLean's Ten Ways, just for the fun of seeing some of the same issues of women and choice explored in wildly different, yet equally fabulous ways. Can't wait for Milan's next book.
The Psy-Changeling series and the Guild Hunter series by Nailini Singh: I find Singh's writing supremely addictive. The Psy-Changeling series in particular, which begins with Slave to Sensation, is epic in scope and so weird and wonderful it's hard to describe. It's a blend of science fiction, fantasy and romance that remixes a lot of familiar elements in a way wholly Singh's own. A little Philip K. Dick (think pre-cogs), a lot of shapeshifter, and a big continuing story. I read the bulk of these in the week C was away at Sycamore Hill.
What Happens in London and Ten Things I Love About You by Julia Quinn. Books filled with in-jokes about books! Smart, funny, and delightful.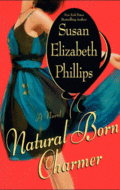 Natural Born Charmer and Match Me If You Can by Susan Elizabeth Phillips. These were the two books described as similar to Crusie that I found most appealing, though I don't think they're actually all that similar to Crusie. They get extra points for quirky, non-traditional heroines. (I happened to be home sick and reading Natural Born Charmer when I got the call that I'd won the Veritas Award, by the by.)
The In Death series by J.D. Robb aka Nora Roberts. Okay, so technically these are mysteries, but they're certainly very romance cross-over since the long-term relationship of Eve Dallas and Roarke is a centerpiece of the books. And there are almost always other characters hooking up in them. I wish these books were a TV series and that's exactly how I read them–gobbled like a marathon of episodes. I love the contrast of the Jetsons future with the gritty police procedural, and just find them outstanding comfort reads. I think I'm up to the tenth. I keep bouncing off the Roberts romances I've tried, but feel free to recommend some because I feel I just haven't gotten to the right one(s) yet.
Last Night's Scandal by Loretta Chase. I have got to read more Loretta Chase. Another wonderful heroine, combined with a Scottish castle supposedly haunted by ghosts and possibly the site of buried treasure, and an Egyptian explorer. I suspect that Chase is an excellent candidate for romances guys would like. Lots of action and adventure, lots of hilarity.
Please feel free to recommend more stuff in the comments. (I'd especially love to read more great contemporaries.)