Thanks to everyone who kicked in on the Lexington Writer's Room fundraiser — we are so pleased with how we did. Reminder: We're taking on new fully vaccinated members now. Yay.
I do have some news items to share, including another glorious rom-com cover, but, first, an attempt to get back to using this as a space to think through things. One of the things I'm thinking about a lot at the moment is making and protecting time. The most precious resource a writer has, maybe, besides stubbornness. As things begin to reopen a bit, and return somewhat to normal, I am certain many of us have forgotten what it means to protect our time.
For many of you, it probably wasn't an option for the past year, especially if you have children. For the rest of us, as things start to return to the previous state of business, there's the temptation to say YES. TO EVERYTHING. YES, I will teach this. YES, I will go there. YES, I will do that favor. YES, let's have this event or go to this place. And some of these are extremely good YESES.
I do my best to live by the rule of only saying yes to things I would say yes to if I had to do them tomorrow. Not agreeing to things that will disgruntle you at yourself for saying YES is important. Particularly, if you — like me — need to not feel all that busy in order to do your best work. When I'm in an intense writing period, I try to protect my space as much as possible. I put as few things on the calendar as I can. Because I know I need that time and space, even if I'm only actively writing during a couple hours of it. If I have a bunch of appointments or meetings, there goes the day. I'm not saying I always get to do this; sometimes life is busy and the work has to happen anyway and that's okay. But it's a great way to flirt with burnout (been there) and I'm trying not to do that anymore.
So, as we move ahead, and begin saying YES, a gentle reminder to remember that saying YES to what you need for your work is also important, valid, and something you absolutely can do. Even if it means saying no to other people and things that you wish you could say yes to (and that you don't, real talk). I'll be working on it too.
Speaking of work, I've been feeling incredibly energized this spring. If you follow me on social media, you may know that I signed with a second agent to handle my books for adult audiences, the wonderful Kate McKean at Howard Morhaim (and will continue to work with the wonderful Jennifer Laughran at Andrea Brown on kids/YA projects). Well, one of my news items is that Kate and I just sold our first book together. Another rom-com with St. Martin's, and one I'm so excited to dig into and bring to life: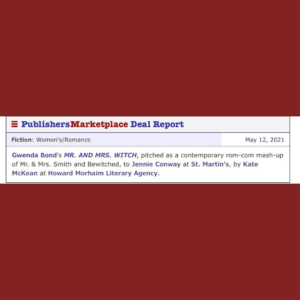 Y'all, this one's going to be big fun.
And speaking of big fun, here's the cover and description for The Date from Hell, aka Callie & Luke book two. The design is once again by Kerri Resnick (genius) and the illustrations by Louisa Cannell (so good). Voila!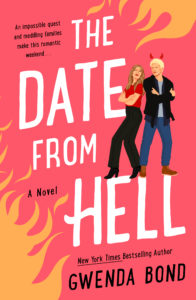 About the book, coming April 2022:
After saving the world and stopping the apocalypse, Callie and Luke are looking forward to a quiet, romantic weekend together. When you're human and dating the Prince of Hell, quiet moments are hard to come by. But their romantic weekend in Hell takes a turn when Lucifer tasks Callie and Luke with chasing a wayward soul around the world. If they can prove it's possible to redeem a soul, Lucifer will allow the two of them to make some changes in Hell.

But this wayward soul, Sean, doesn't have any interest in being redeemed. Instead, now that he's back on Earth, he's decided to take a leaf out of Callie and Luke's book and wants to find the Holy Grail. Now Callie, Luke, their friends—and enemies—must race Sean around the globe on a Grail quest and bring peace between Heaven and Hell before they can finally (maybe) get around to that date.

In The Date from Hell, the sequel to Not Your Average Hot Guy, New York Times bestselling author Gwenda Bond brings the journey of Callie, Luke, and their friends to a wonderful close. This is another laugh out loud, action packed romantic adventure you won't want to miss.
Preorder: 
Bookshop: https://bookshop.org/books/the-date-from-hell/9781250771766​
Amazon (Kindle): https://amzn.to/3uHkl08  (*Note that the paperback edition isn't available yet for weird data reasons, but soon.)
IndieBound: https://bit.ly/2Qcq671
Apple Books: https://apple.co/3ocrZgv
Kobo: https://bit.ly/3eEy7Lx
Google: https://bit.ly/3eHbEgX
Look how pretty they are together: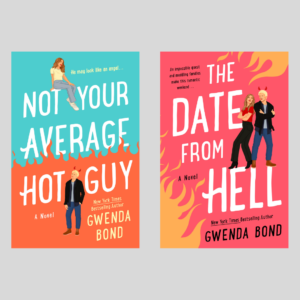 You can find all the preorder links for Not Your Average Hot Guy right here. Preorders are the most important thing you can do to support an author's upcoming books! As I'm moving into a different career space, I have a lot riding on these and, also, I hope they will delight you. So if you can preorder, please do. *smiles non-creepily* (A p.s. for reviewers and bloggers: NYAHG is now available on Netgalley for your requesting pleasure.)
And that's all for this week! Be well and say NO with abandon.