One of the things I used to be much better at using this space for was recommending things I've been loving of late — whether it was books, music, movies or TV — and that often also led to recommendations from you guys of other stuff I ended up loving. Of course, I do this in a piecemeal way on twitter and facebook and etc., like we all do, but it feels more scattered. So consider this the first in an occasional series of posts about great stuff I've been enjoying that's out or about to be out. Not, of course, comprehensive.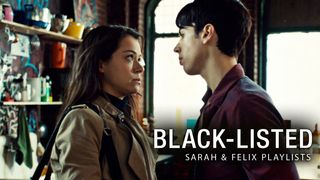 I spent the weekend deadlining on a couple of different nonfiction things by day, and marathoning the first season of Orphan Black (which just came out on DVD) by night. If you like smart science fiction TV–particularly with an actress's consistent tour de force performance at the center–you will want to check it out. And avoid spoilers beforehand, if you can and care about such things. All I knew was that it was a genre show and people I trust said it was realllly good. It doesn't hold onto the secret that is its premise for too long, but long enough that it's fun to watch the pilot without knowing. Fab characters. (Felix = j'adore!) There are playlists for Sarah and Felix's characters here that are fun, and obviously where I snitched that pic from. If you've already watched it, here's a second season preview-let (+ interview snippets with the cast by Charlie Jane at SDCC) at io9.
Books! Even though I've been insanely overrun lately, all I want to do is sit around and read and work on various novel projects. Magically, I have managed a decent amount of reading (if not nearly as much writing time as I want). You can also check out this page for more or less up to date reading recs, anytime.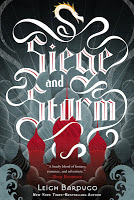 So…I finally got around to reading the thoroughly excellent second installment of Leigh Bardugo's Grisha series, Siege and Storm. This is undoubtedly one of my favorite series at the moment, in YA or out of it. Epic sweep, great characters and world-building, witty banter, and a delicious romance that manages to complicate heroine Alina's story, rather than simplify it. LOVE.
Speaking of romances, as most of you know, they are my go-to stress reading of choice. And one of my favorite series is Julie Anne Long's Pennyroyal Green books. I believe I've now read all eight of them, since I discovered her earlier this year. The eighth in question is It Happened One Midnight, and just recently out. It became an instant favorite. Such a fun read. And if you haven't tried Elizabeth Essex yet, well, seriously, Almost a Scandal is waiting for you; girl dresses as boy to get on board ship, proves to be an excellent sailor, has exciting adventures and falls in love. Oh, and Courtney Milan has a new one as well, also FABULOUS: The Heiress Effect. There you go.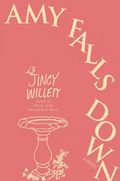 And for something completely different, I'm just finishing up Jincy Willett's latest, Amy  Falls Down, a loose sequel (same characters–including protagonist Amy Gallup) to The Writing Class, which my love for is well-documented. Here's an interview I did with her when that book came out–something else I used to do more of here, but have fallen out of the habit of.
But I'm going to try to be better about these things, time permitting, especially since we're about to enter the season of The Woken Gods promo (I love you forever if you pre-order–and, if you do, save your receipt, because there might just be something in it for you; more details anon). Anyway, I shall endeavor to make it at least semi-fun for all of us. Karmically, I'm only happy if I'm recommending and talking about stuff by other people, in addition to promoing my own work. And, in fact, my wonderful pub sister Kim Curran will be dropping by at some point this month, and she and I are going to talk second books and the last year and etcetera. Speaking of which, run don't walk to get your copy of her follow-up to Shift, Control, the second book in her fabulous Shifter series, which is officially out next week.
That's probably more than enough for now, so ciao, bellas and fellas.