Yes, it's true, I have two books out this week. Hold me! I've been very good/bad!
I'm so excited about both of these (obviously!), for different reasons. So if you'll indulge me.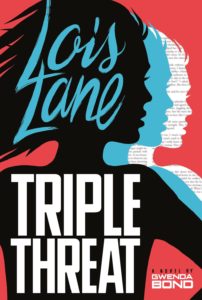 Lois Lane: Triple Threat is probably the last book in the Lois Lane series (I say probably, because no more are currently planned but hey, you never know), and I'm very proud of the way all three books form a nice trilogy-shaped unit. I hope they take readers on a journey of happiness and hope with some nail-biting along the way, and say things about friendship and family and ambition and love and, of course, how to be a hero (and how to help other people be heroes too). Getting to write Lois and Clark and Perry and my gang and some great classic villains has been the gig of a lifetime, one I'm so very grateful for. And I hope you, faithful dear readers of this series, know that it would have only been one book without you. So a huge thanks to all the Lois Lane fans out there, and to my publisher/editors at Capstone/SwitchPress and Warner Bros/DC Comics for all their support.
If you haven't read these (or know people who haven't tell them to!), well, collect the whole set. The first two are in paperback and in Kindle Unlimited, if that's something you do, and now you can read them all with no waiting! And please consider leaving reviews at Amazon, Goodreads or B&N, especially for Double Down and Triple Threat. I also created a spoiler thread for questions or discussion, so feel free to drop by there too.
If you'd like signed, personalized copies and aren't sure you'll catch me somewhere else this year, call up Joseph-Beth Booksellers in Lexington. They'll hook you up for a nominal shipping fee. The number is (859) 273-2911.
Get it: Amazon * B&N * Indiebound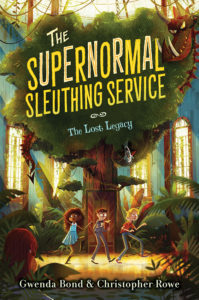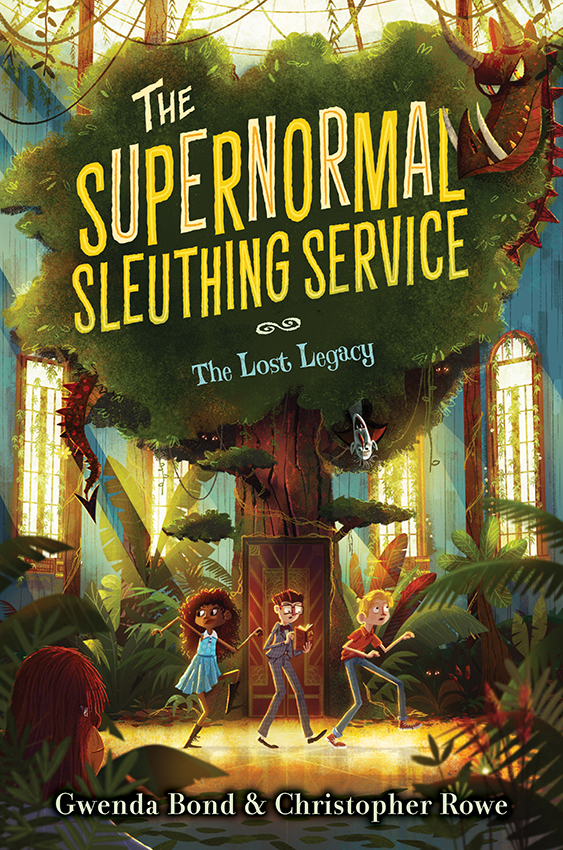 And now for something different, but still fun! Today is also the debut for Supernormal Sleuthing Service #1: The Lost Legacy by me and Christopher Rowe, with charming and perfect illustrations by Glenn Thomas. I'm a little giddy about this one and it's difficult to put into words how and why. This is, of course, the first time Christopher (my husband, for anyone who doesn't know) and I are writing together. We had a blast creating this world — the hotel where monsters stay when they come to New York City — and all the characters who populate it. Think of it a bit like a Pixar movie — there are jokes for kids and for adults and we just hope it will be a delight for everyone. And we hope the next one will too!
Everyone tells me middle grade is a slow build and so I'm asking your help in recommending this one to your pals with kids or buying it for your own. We've already had such excited reactions from some of the early readers at the bookstore's ARC program and booksellers whose taste we trust to the maximum extent allowable by law who are constitutionally incapable of faking enthusiasm (I'm looking at you, Amanda!). Joseph-Beth's support for this book so far deserves a special mention, and it's only a little because Christopher is a bookseller there. (No, really. WE LOVE YOU GUYS.)
A little more about the book!
Three kids. A hotel full of monsters. And a stolen magical artifact that could disrupt the balance between the humans and the supernatural. Welcome to life at Hotel Monster! The first book in the hilarious and spooky series that is Hotel Transylvania meets Escape from Mr. Lemoncello's Library.

Stephen's dad decided to move them across the country to New York City, where his dad is taking over as head chef in an exclusive hotel. A hotel that has the most elite of clientele: monsters! Surprise! Or as they prefer to be called, supernormals. And an even bigger surprise? Stephen is part supernormal himself. When a magical artifact goes missing and Stephen is framed, he must work with two new friends to navigate this whole new world to clear his name. Consequences can be dire in the world of monsters. Spooky, funny, and full of monstrous hijinks, The Lost Legacy by Gwenda Bond and Christopher Rowe is an inventive and accessible mystery-adventure full of friendship, humor, and a monstrous cast of characters—perfect for fans of Pseudonymous Bosch and R. L. Stine's Goosebumps series.
 Need more convincing?
Booklist: "Spouses Bond and Rowe make their middle-grade debut in this series starter. The light mystery will charm readers with its secret magical society, unusual characters, caring father-son relationship, and enchanted hotel setting. Monstrous fun!"

SLJ: "First in a new series, this is a fun, character-driven supernatural mystery. The authors artfully meld the supernatural with the modern. Black-and-white, cartoon-style line drawings by Thomas establish just the right mood for the quirky setting and characterization. The story is fast-paced and full of action, with eccentric characters and a rewarding resolution."
Many thanks to our wonderful editor Martha Mihalick at Greenwillow and her team! Also, we created a twitter account for the Elevator at the New Harmonia Hotel, which is a good place to follow or let your kids follow for news about the series or just your periodic dose of Elevator complaints.
Get it: Amazon * B&N * Indiebound
And we'll be at Joseph-Beth in Lexington at 7 p.m. tonight, May 2, signing and discussing both these books. Christopher will do voices! You can also order signed Supernormal from Jo-B, by the by. Back tomorrow with a Contest Announcement for Teachers and Librarians!
A side note for authors: This is actually, I just realized, my first book with one of the "big five" — I've been very lucky to work with great independent/smaller publishers who I adore, and so if you're an author who thinks you can't build a career that way, well, you can.