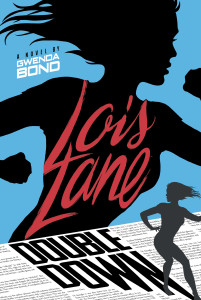 Happy Friday, dearies! This is a quick update with some pointers to other things and a piece of NEWS. First up, Christopher and I have been on the internet writing the back-and-forth essays about the Supernormal Sleuthing Service: The Lost Legacy:
Buy links in case you still haven't picked it up: Amazon * B&N * Indiebound
(It's back in stock at Amazon and the ebook is now on Kindle for those of you who were waiting!)
And last but not least WHEEEE EEEEP I just discovered that Lois Lane: Double Down is a finalist for the Locus Awards in the YA category! This is my first awards shortlisting for this kind of thing and I am extremely honored and thanks so much to everyone who voted! It's a great list filled with friends and heroes. Now to figure out whether I can swing the awards ceremony (not because I have any hope of winning, natch, but because finalist and awards party!).