So, some of you have read my first novel Blackwood (thank you!) — though many of you, I'm sure, are like Blackwoodwha? That's probably because it was issued by a smaller UK-based publisher as the first title in a new YA line that, alas, was not long for this world. I'll be forever grateful to Angry Robot's Strange Chemistry line and my editor Amanda Rutter for taking a chance on this new writer and launching my career. And my agent, the delovely Jenn Laughran, was able to get back the rights after the imprint folded.
Some of you may remember a brief flash period last winter when Blackwood was available once more, in a self-published form. A couple of weeks after that, my wonderful editor at Capstone/Switch Press Beth Brezenoff made an offer to buy it for them and release it in hardcover. Obviously, I adore these guys; they publish my Lois Lane books. I was thrilled.
I'm telling you this, by the way, as an example of how strange publishing is and how unpredictable. And how setbacks that seem career-killing at any given time don't have to be.
Anyway, enter my new editor on the book Alison Deering. We had a call and Alison gently asked if I would be willing to rework the book so we could truly relaunch it and give it a new life–would I be willing to revise it in dual first-person, which she thought would serve the story well?
After a moment of terror, the idea began to appeal. I thought, what can it hurt to try? I was intrigued by the possibility. It was absolutely the right decision. And so I think if you loved Blackwood, you'll love this new version even more, I hope — which is now back to its original title. One of the reasons we thought Strange Chemistry might be a perfect fit for it initially was because my title was Strange Alchemy, which of course was too close to the imprint name to stick with. And now that the story really belongs to both Miranda and Grant, it felt right to go back to it.
And so, first novel rebirth! I have to tell you that my conversations with other writers about getting to revisit my first novel and remix it/reimagine it, as it were, have provoked two reactions: "OMG, I'd love to do that" and "OMG, what a nightmare!" Which I completely understand. I'm grateful this experience was far from painful for me, because as I said, I landed somewhere in the middle at first. I even had to go back and ask permission to reuse blurbs (thank you, everyone), so it has been deja vu all over again in some ways. I hope all you guys love this book and these characters as much as I do.
Annnnd I think this new cover, designed by the fabulous team at Switch Press, is perfect. Voila!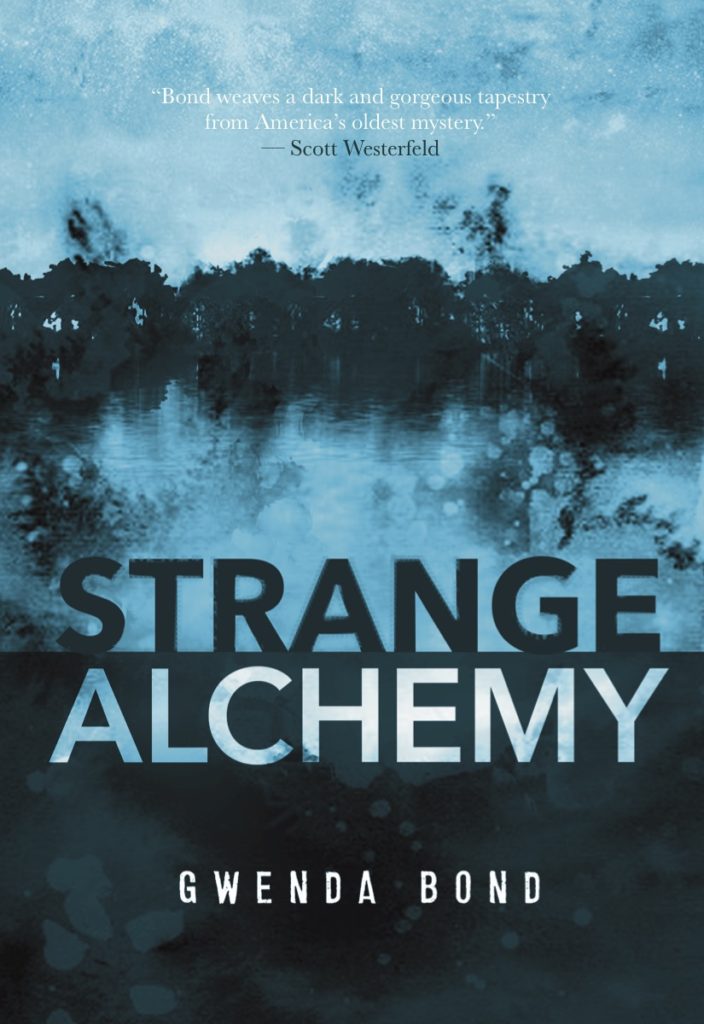 The back sayeth:
Missing. Disappeared. Gone. 
On Roanoke Island, the legend of the Lost Colony — and the 114 colonists who vanished without a trace more than four hundred years ago — still haunts the town. But that's just a story told for the tourists…or is it? When 114 people suddenly disappear from the island in present day, it seems history is repeating itself — and an unlikely pair of seventeen-year-olds might be the only hope of bringing the missing back. 
Bestselling author Gwenda Bond's first novel has been reimagined and brought back to life with new vision in this dark, compelling mystery.
Coming in August! Buy links and all that jazz soon!
p.s. Double Down is on sale at all etailers for .99 but I think today's the last day!