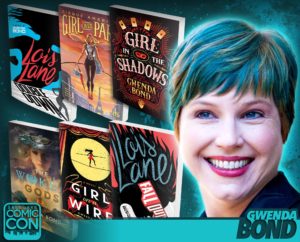 Hey everyone! Here's my schedule for next week at SLC ComicCon (come say hi!):
Thursday, September 1, 2016
1:00 pm to 2:00 pm
Writing for Teens :: 255F
4 to 5 p.m.
Signing – Shadow Mountain – Booth 1807
Friday, September 2, 2016
12:00 pm to 1:00 pm
Behind the Glasses – Why Superheroes Need Secret Identities :: 150G
6:00 pm to 7:00 pm
Romance in Science Fiction, Fantasy, & Horror :: 251A
Saturday, September 3, 2016
10:00 am to 11:00 am
Teen Author Boot Camp: Girl Power: Writing Strong Female Characters :: 255B
11 a.m. – 12 p.m.
I'm With HER-O — I'm not sure where this will yet, but it'll be me and Margaret Stohl and Sarah Kuhn and Cecil Castellucci so get there!
12:30 p.m. to 1:30 p.m.
Signing – Shadow Mountain – Booth 1807
I'll post here if anything changes, but hope to see some of you there.
p.s. I started a Patreon, which I'll post more about soon. I'm still figuring out how to make it useful!