So… I missed posting here for release day, traveling and then recovering from yet another round of my late trapped-in-airport curse. But the sequel to Fallout is now available wherever fine books are sold; if you visit a store that doesn't have it, just ask them to order it for you!
The details: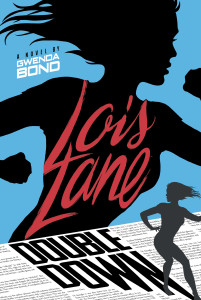 Lois Lane has settled in to her new school. She has friends, for maybe the first time in her life. She has a job that challenges her. And her friendship is growing with SmallvilleGuy, her online maybe-more-than-a-friend. But when her friend Maddy's twin collapses in a part of town she never should've been in, Lois finds herself embroiled in a dangerous mystery that brings her closer to the dirty underbelly of Metropolis.
Buy links here. Please drop a review somewhere once you've read it, if you're so inclined.
Kirkus gave Double Down a star and said: "That's a lot of balls to juggle, but Bond never drops a single one. She fills this adventure with the Golden Age sci-fi weirdness that permeated the comic books of the 1930s and '40s. The three mysteries dovetail together nicely in the end, with a few bread crumbs leading toward the next installment. Best of all, the novel ends as Lois crosses a line she will never be able to turn back from, a line that will mean big changes moving forward. In a sea of series that keep the characters status quo and rehash the same mysteries with different names and doodads, this is a godsend."
And here's Tim Hanley: "For me, Gwenda Bond writes the best Lois Lane out there right now. The best Lois of the 21st century, really, at least. When I wrote Investigating Lois Lane, I read/saw/listened to pretty much everything Lois has been in, and Bond's Lois is one of my very favourites. She encompasses everything I love about past incarnations of the character while also being fresh, modern, and unique in her own way. Here's a spoiler for my own book: Fallout and Double Down are the last things I talk about in Investigating Lois Lane, and there's a reason for that. In an era where Lois has been criminally underused, Bond has crafted a Lois that shows why she's a relevant, fantastic character who deserves the spotlight."
Thanks so much to everyone who has supported this series; I adore you all. Last week's tinyletter talks about where book three stands (aka in the hands of the fate), so keep spreading the word.
Happy #BookBirthday @Gwenda @SwitchPressPub – DOUBLE DOWN, the sequel to FALLOUT, is finally here! #LoisLane #yalit pic.twitter.com/lEBgRbIRkm

— Capstone (@CapstonePub) May 2, 2016
And now some YALLWEST pics (it was fabulous)…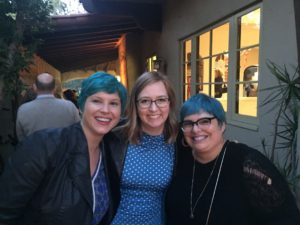 Blue ladies, me, Shannon Hale and Holly Black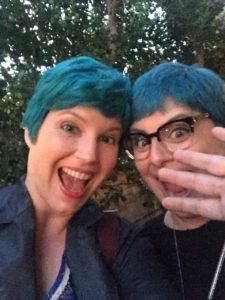 Me and Holly again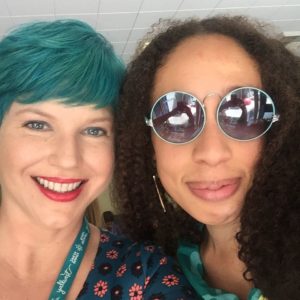 Me and Alaya Dawn Johnson in the green room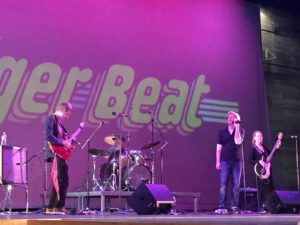 Tiger Beat doing a gorgeous Prince tribute number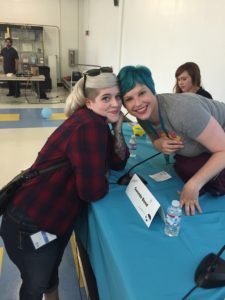 I finally got to hang out with Kate Leth! Team Girl Over Paris!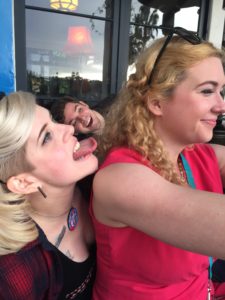 Speaking of which… some hijinks ensued. Kate, Marguerite Bennett photobomb by Jeremy Lambert.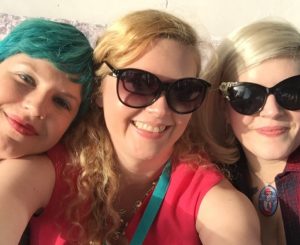 Me, Marguerite, and Kate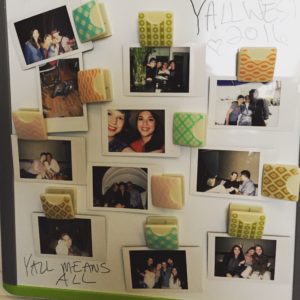 Last but not least, I took my new instant camera and yesterday made a little board with all the (not)Polaroids I took with it. Good times!