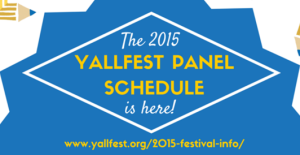 Are you coming to Charleston this weekend? I hope so!
Here are my schedulings + a link to the master schedule:
Noon – Signing! The first TEN people in line will get an ARC of Lois Lane: Double Down! And everyone will get a What Would Lois Lane Do? bracelet/swag.

2 p.m. Music Hall: Jedis vs. Superheroes: Moderator, Adri Cowan with Margaret Stohl, Gwenda Bond, Brandon Sanderson, Alexandra Bracken, & Adam Gidwitz. We have Black Widow, Lois Lane, & Steelheart on the one side. Princess Leia & Yoda on the other. Our judge is from Marvel, but the force is strong with her. Come join the debate.

4 p.m. Museum: Strong Female Characters, Ugh! Moderator Rae Carson with Ryan Graudin, Gwenda Bond, Mindy McGinnis, Elizabeth Wein, & Maya Van Wagenen. Let's talk about the state of our YA girls, or, why we still have to have this panel.

6 p.m. YA Smackdown!