A sequence of tweets last night:
Everyone here at Switch has been THRILLED at the fan response to @Gwenda's #LoisLaneFallout. #LoisLane fans are clearly the best fans ever!

— Switch Press (@SwitchPressPub) August 5, 2015
And we can't imagine a better or more devoted writer than @Gwenda to continue writing the adventures of a teenage Lois Lane #LoisLaneFallout — Switch Press (@SwitchPressPub) August 5, 2015
So, we are THRILLED to announce that …..

— Switch Press (@SwitchPressPub) August 5, 2015
The rumors are true! @Gwenda's Lois Lane will return on May 1, 2016! #LoisLaneFallout #CoverReveal #DCComics #YALit pic.twitter.com/EMEkL2eydP — Switch Press (@SwitchPressPub) August 6, 2015

Hit play for full mesmerizing gif impact!
And here's the image on its own: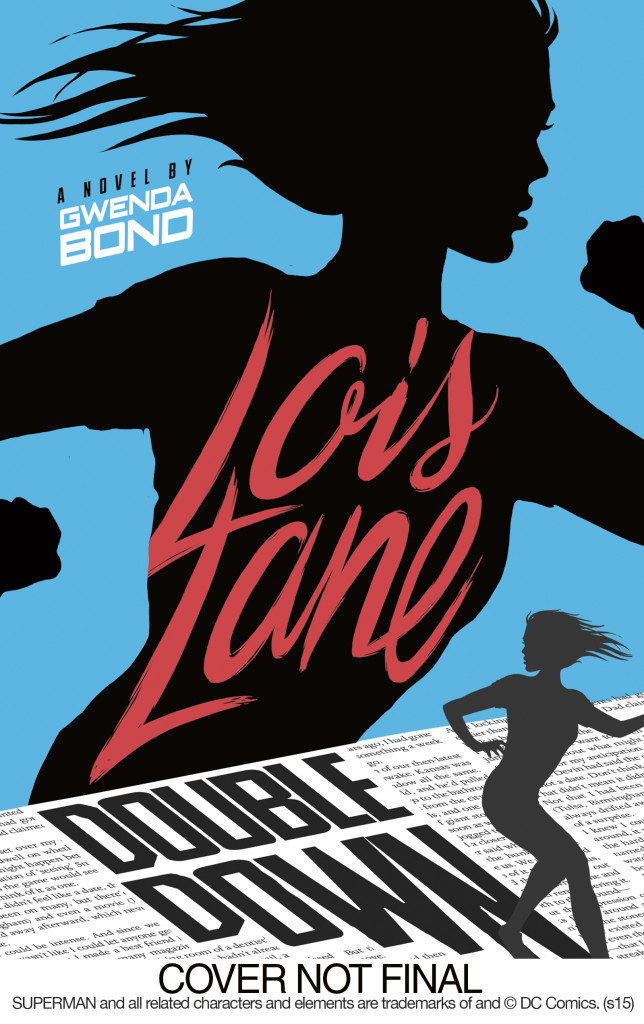 Thanks to my wonderful publisher, Capstone/Switch Press, and the amazing team there, who I'm so thrilled to be working with again. And to DC/Warner Bros, our super-important partners on this project, who are also an amazing team to work with. Also, as always, to my agent Jenn Laughran, the best. Long story short: I still don't quite understand how I got lucky enough for the universe to bring me this project, but I'm so very grateful for your response to it. Keep telling everyone to read Fallout in the meantime. <3
Double Down is already up for pre-order at Amazon and will be at other places soon, I expect. The little description from there:
Lois Lane has settled in to her new school. She has friends, for maybe the first time in her life. She has a job that challenges her. And her friendship is growing with SmallvilleGuy, her online maybe-more-than-a-friend. But when her friend Maddy's twin collapses in a part of town she never should've been in, Lois finds herself embroiled in a dangerous mystery that brings her closer to the dirty underbelly of Metropolis.
I hope you guys are going to love this book even more than Fallout. It's not quite through with editing yet, but I already do. It's got lots of juicy stakes-raising and scary danger and learning how to navigate friendships and hopefully everything you liked about book one but MORE.
You may be wondering why we did the reveal this way and when the cover is not quite yet final per that little strip on the bottom — well, I think we are always thinking, let's just go straight to the readers, because impatient and also fun. We also knew we couldn't wait until the cover was entirely final to show it to you for publishing reasons. Pause for nerdery: Even though the book won't be out until May next year, now is the time when the publisher's sales team begins to go out and show their list for next spring to their big bookstore and retail accounts to try and get them to order and be excited about the new books. Which means they have to have something to show them, and those things inevitably end up posted online at some point anyway and, hey, other people being excited about it already can't be a bad thing, right?
Right!
Again, beaming from ear-to-ear about this great cover by the wonderful Bob Lentz (superhero name across the chest = genius!) and can't wait to share another Lois book with you! I have OTHER, UNRELATED SECRETS that will probably be revealed before the end of the year, but for now I better go get my morning words on the sequel to Girl on a Wire. Writing about a magician is just as fun as I thought it would be.