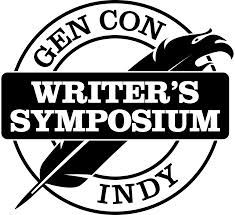 Christopher and I will both be at Gen Con next weekend, participating in the Writer's Symposium. There will be a limited number of copies of Lois Lane: Fallout and Girl on a Wire available at the Indy Reads Books booth (so grab them quick if you want them!). I've ordered an item of special swag that you may be able to score if you come by my signing or find me elsewhere.
My updated schedule:
Alas, I'm listed on a panel on Researching Your Story on Thursday afternoon that I won't be attending after all; we have to take Emma the Dog to the vet before we can leave town and so we're going to be a little late arriving. Christopher will also be missing his panels that day. We are sad, but it's unavoidable!
Friday, July 31:

Character Craft: Motivation & Obstacles at 10 a.m. – with Howard Tayler (mod), Gwenda Bond, Lauren M. Roy, Elizabeth Bear, and John Hornor Jacobs
Writer's Life 101 at 1 p.m. – with Kelly Swalls (mod), Anton Strout, Gwenda Bond, Christopher Rowe, and Chuck Wendig (Chuck and I may have generated a fake religion with our pal Kim Curran the first time we met in person, so who knows what will happen on this panel? Should be fun.)
Writing Comics: When Only Batman Will Do at 3 p.m. – with Bill Willingham (mod), Gene Ha, Chris Roberson, Jim Zub, Daryl Gregory, and Gwenda Bond

Saturday, Aug. 1:

Signing in the exhibit hall next to the Indy Reads booth at 1 p.m. – Come talk to me! And bring things for me to sign. Otherwise, I fear loneliness. And if I have swag, this will be a good time to score it.
Characters: Unlikeable Characters at 3 p.m. – John Helfers (mod), Anton Strout, Christopher Rowe, Gwenda Bond, and Stephen Blackmoore
I'm sure I'll also be findable at many of Christopher's panels, not just the two we're on together. Or in places where drinks can be procured.
Updated again: The swag!
The special swag came in time for #gencon after all! #yay #nerd #wwlld pic.twitter.com/a2rxl2Z935

— Gwenda Bond (@Gwenda) July 29, 2015

Here's how to get this nifty WWLLD bracelet, because alas they are expensive swag I do not have enough to give them out to everyone:
Bring me a book to sign, which if you don't have already, you can pick up at the Indy Reads booth (either of my books they'll have will do);
Come up to me and say: "Lois Lane would kick ass" or some variation thereof! And if I still have some of the extras I'll be carrying, I'll give you one.
Hope to see some of you there!