I'm away at a retreat this week and also on deadline (ack!), so this will be short and sweet.
Thanks to everyone who came out to the panel at the LA Times Festival of Books — and to moderator extraordinaire Aaron Hartzler, and lovely fellow panelists Danielle Paige and Sara Benincasa. We had such fun! And it was very exciting how quickly copies of Fallout sold out, but also how many of you bought or brought Girl on a Wire. Also, this was just a tremendously well-run festival and it was a real honor for me to be a part of it. I got to catch up with lots of friends (Kelly Link and I went to dinner at the Magic Castle, a long-time dream of mine) and I met some wonderful people — including the very fancy Margie Stohl, author of this fall's forthcoming Black Widow YA novel. A fun picture of me, Margie and Danielle:
I just did a newsletter with all the things in it, including a reminder that Girl on a Wire will be in a bunch of Wal-Marts starting next week (keep an eye out!) and of course many many Lois Lane things. Eep!
Those include the launch party (May 8 at Joseph-Beth) and some June tour news. I'll be on the road with these fabulous, DANGEROUS LADIES, all of who are at this week's retreat: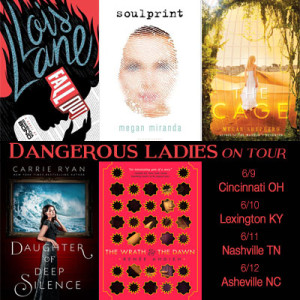 Some recent reviews and a new interview about the book:
And next week is the official release (though I'll still be on deadline — ack!), so keep sending your reactions and photos of the book and et cetera et cetera. There will be more interviews and other things happening. Please consider purchasing early (and often — I kid, mostly ;-), and consider posting an Amazon and/or Goodreads review and sharing if you enjoy the book. Thanks again to everyone for your excitement! I hope you love the book.
*breathes into bag*