In fact, it was a good enough year that my head, heart, hands and at least one foot are in 2015 already–forward momentum is always a good thing. Or as Jules puts it in Girl on a Wire:
With motion comes purpose. With motion comes discovery.
But there's a value to taking stock and keeping a record too. And the amusement value of looking back from another year on, as I just did to last year's post (pretty on point, actually, though as always some things took longer to get to than I expected). I said last year that 2013 felt transitional, and it did. And so this past year, 2014, was more settled in many ways. Oh, sure, there was the usual anxiety and upheaval, but I also had a building sense that I was doing what I wanted to be, telling the stories I wanted to tell, with a better idea of how I want the story of my career and my life to take shape. Those are truly stories only we can tell, after all. On the practical side, it's also really nice to be paid well and have teams of people to work with who take care with and support your work.
I stopped feeling like some sort of fraud writer whose career would be snatched away–most days anyway–and like someone who just kept their eyes ahead and focused on doing the work. And that's my plan for 2015–to keep telling the stories I want to tell, while trying to get better at telling them, always, and to keep working with great people. I'm having more fun as a writer than I ever have, and I hope that translates to more fun for you as readers. Without you, I don't get to keep doing this. So please know your support means the world.
Another discovery? Lois Lane fans are truly the absolute best. I can't wait to get to share Fallout with you guys.
I only managed to finish two books last year, and one of them was a collaboration (which just got done literally yesterday, so cross everything; I'm really proud of that one). Amid doing a bunch of other things. There were swathes where not much writing got done, but that was tied to the not-good parts of 2014, which involved both my parents having serious surgeries at an overlapping time. They are both in much improved health now, and that's a huge relief and something I'm grateful for every day. (It also taught me a real lesson about how fragile my routines are and reaffirmed the lesson of always working ahead.) But I came out of the year with several projects I'd like to tackle at some point in the future and energy for the ones I'm working on now. And we took a marvelous trip to Portugal.
Writing stuff:
GIRL ON A WIRE – Thanks to all of you who've bought and read and recommended it to others. And please keep on doing so! It's hard to believe, but it's only been out for a handful of months and I've been too busy writing to do that much promotion, other than a few events and a tweet here or there. But people are still finding it, and that's all due to the publisher and you guys. The reception to this book makes my heart feel many sizes bigger. The Cirque thanks you guys. Significant events in blog posts: Kindle First launch  and Release Day.
The announcement of LOIS LANE: FALLOUT – What a whirlwind that was! And we're just four months away from the official release now, y'all. Four. Months. I'm so grateful for the early reactions this book has gotten. Significant events in blog posts: The Secret is Out (!!!) and Media Round-Up. (Having been the recipient of many excellent Superman-themed T-shirts and sweaters and pajamas over the holidays, I'm hoping this is a hit at least partly so maybe we could get some more Lois-themed garb. Who's with me? Even just the cool name treatment from the cover. A girl can dream. 😉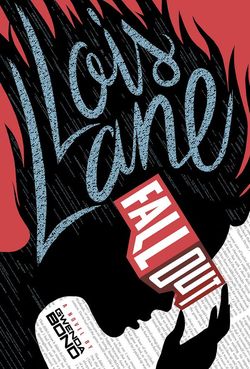 Looking ahead…
LOIS LANE: FALLOUT - This is going to be my year of Lois, and there'll be much ado from me around the launch, I'm sure. This is going to be a year of firsts–my first Winter Institute, my first BEA appearance, my first Many Other Things. I'm so so excited, still, to get to contribute to the legacy of one of the most iconic, incredible characters ever and, oh, do I hope you guys enjoy this book. Also, Lois is one of the funnest characters to write, period. When stuck, I just ask: What Would Lois Lane Do? Voila! Solution. Hashtag: #WWLLD
And I'll also be writing TWO MORE BOOKS in 2015 that I can't tell you about quite yet. (Hopefully soon, at least for one of them!) But there will be at least two new books by me for you in 2016. And I can't wait to get them written.
More surprises coming this spring! Including a completely revamped website (finally!). Other things I'm looking forward to: a retreat in Mexico in February and a retreat in South Carolina in April. I'm hoping life will also surprise me (and Christopher!) in good ways, and that maybe a leap I've been eyeing for a long while will become possible.
Other Significant Blog Posts of the Year:
I didn't blog that much last year, but there were a handful of longer posts people seemed to enjoy, in chronological order.
Happiest of New Year's to you all. I hope 2015 is a time of marvels.