My books in publication order, from newest to oldest. Follow the links to their full pages to see more information about each one.
LOIS LANE: FALLOUT – forthcoming, May 1, 2015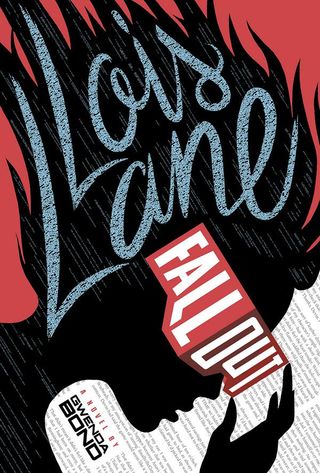 Lois Lane is starting a new life in Metropolis. An Army brat, Lois has lived all over—and seen all kinds of things. (Some of them defy explanation, like the near-disaster she witnessed in Kansas in the middle of one night.) But now her family is putting down roots in the big city, and Lois is determined to fit in. Stay quiet. Fly straight.
As soon as she steps into her new high school, though, she can see it won't be that easy. A group known as the Warheads is making life miserable for another girl at school. They're messing with her mind, somehow, via the high-tech immersive videogame they all play. Not cool. Armed with her wit and her new snazzy job as a reporter, Lois has her sights set on solving this mystery. But sometimes it's all a bit much. Thank goodness for her maybe-more-than-a friend, a guy she knows only by his screenname, SmallvilleGuy…
Pre-order or add on Goodreads:

Lois Lane: Fallout
by Gwenda Bond
Young Adult
Switch Press/Capstone (May 1, 2015)
ISBN: 978-1630790059
Amazon | Barnes & Noble | Indiebound | Powells | Add on Goodreads
See more information about LOIS LANE: FALLOUT.
*
GIRL ON A WIRE – available now

A ballerina, twirling on a wire high above the crowd. Horses, prancing like salsa dancers. Trapeze artists, flying like somersaulting falcons. And magic crackling through the air. Welcome to the Cirque American!
Sixteen-year-old Jules Maroni's dream is to follow in her father's footsteps as a high-wire walker. When her family is offered a prestigious role in the new Cirque American, it seems that Jules and the Amazing Maronis will finally get the spotlight they deserve. But the presence of the Flying Garcias may derail her plans. For decades, the two rival families have avoided each other as sworn enemies.
Jules ignores the drama and focuses on the wire, skyrocketing to fame as the girl in a red tutu who dances across the wire at death-defying heights. But when she discovers a peacock feather—an infamous object of bad luck—planted on her costume, Jules nearly loses her footing. She has no choice but to seek help from the unlikeliest of people: Remy Garcia, son of the Garcia clan matriarch, and the best trapeze artist in the Cirque.
As more mysterious talismans believed to possess unlucky magic appear, Jules and Remy unite to find the culprit. And if they don't figure out what's going on soon, Jules may be the first Maroni to do the unthinkable: fall.
Buy or add on Goodreads:

Girl on a Wire
by Gwenda Bond
Young Adult
Skyscape (Oct. 1, 2014)
ISBN: 978-1477847824
Amazon | Barnes & Noble | Indiebound | Powells | Add on Goodreads
See more information about GIRL ON A WIRE.
*
THE WOKEN GODS – available now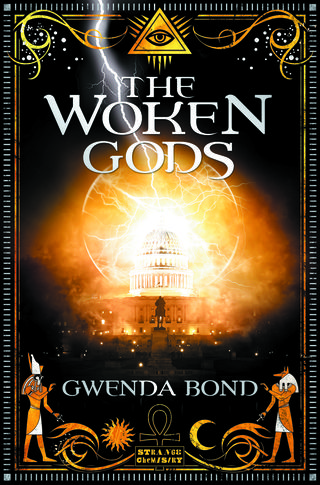 Five years ago, the gods of ancient mythology awoke around the world. This morning, Kyra Locke is late for school.
Seventeen-year-old Kyra lives in a transformed Washington, D.C., home to the embassies of divine pantheons and the mysterious Society of the Sun. But when rebellious Kyra encounters two trickster gods on her way back from school, one offering a threat and the other a warning, it turns out her life isn't what it seems. She escapes with the aid of Osborne "Oz" Spencer, an intriguing Society field operative, only to discover that her scholar father has disappeared with a dangerous relic. The Society needs it, and they don't care that she knows nothing about her father's secrets.
Now Kyra must depend on her wits and the suspect help of scary gods, her estranged oracle mother, and, of course, Oz—whose first allegiance is to the Society. She has no choice if she's going to recover the missing relic and save her father. And if she doesn't? Well, that may just mean the end of the world as she knows it. From the author of Blackwood comes a divinely different fantasy that will appeal to fans of Neil Gaiman, Cassandra Clare, and Rick Riordan.
Buy or add on Goodreads:

The Woken Gods
by Gwenda Bond
Young Adult
Strange Chemistry/Angry Robot (Sept. 3, 2013)
ISBN: 978-1-908844-25-5
Amazon | Barnes & Noble | Indiebound | Powells | Add on Goodreads
See more information about THE WOKEN GODS.
*
BLACKWOOD – available now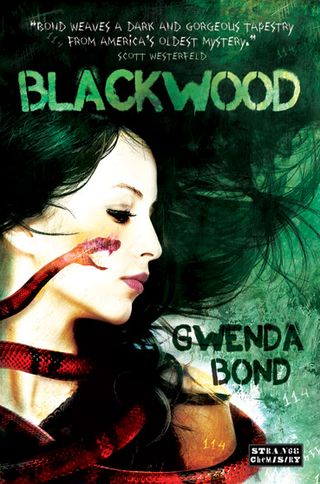 On Roanoke Island, the legend of the 114 people who mysteriously vanished from the Lost Colony hundreds of years ago is just an outdoor drama for the tourists, a story people tell. But when the island faces the sudden disappearance of 114 people now, an unlikely pair of 17-year-olds may be the only hope of bringing them back.
Miranda Blackwood, a misfit girl from the island's most infamous family, and Phillips Rawlings, an exiled teen criminal who hears the voices of the dead, must dodge everyone from federal agents to long-dead alchemists as they work to uncover the secrets of the new Lost Colony.
The one thing they can't dodge is each other.
Buy now or add on Goodreads:

Blackwood
by Gwenda Bond
Young Adult
Strange Chemistry/Angry Robot (Sept. 4, 2012)
ISBN: 978-1-908844-07-1
Indiebound | Barnes & Noble | Amazon | Powells | Add on Goodreads