A while back, I participated in the YA Scavenger Hunt, always fun, and wrote a little extra set in The Woken Gods universe, giving a glimpse of the Awakening in London. I've been meaning to put it up here since, because a few people told me they missed it and, well, it needs a place to live. (The cool art I found via google, and is available as a card and maybe a print from UK artist Deborah Holman; check her stuff out.)
And now without further ado, a little story for you…
Arawn and the Wild Hunt Visit the West End
There are better places to busk than the one Alice chooses every weekend. But the broad streets that converge on Piccadilly Circus have become like a second home to her, the noise a welcome contrast to the unbroken quiet in the flat while her parents are working, always working. The tourists here are often fresh off airplanes, only a day or two in London. The Americans in particular never seem to pick up the value of coins until they're leaving.
Many times Alice checks the top hat she places in front of her to find handfuls of pounds — round, metallic, heavy — inches deep along the bottom. She sits it in front of her now, and removes her violin from its case.
She saves the small oceans of money from the hat, never breaking over for so much as an ice cream on the way back home. That money is adding up, and when she tells her parents she's not giving up music to study accounting or law or whatever they've decided is best for her…she'll need it. Alice takes up her usual spot on the steps around the base of the tall statue of Eros, a cupid with his bow trained on the crowd, and admires the scooped detail of the wings that would hold him aloft if he were real.
Alice likes to think Eros helps her out, that invisible arrows grab the chests of passersby and draw them in close, until they pay her tribute. She draws her own bow across the strings, makes a few small adjustments, and begins to play. It's not something people will know, because she wrote it — she'd probably make more if it was Bach or Mozart. But this, too, is part of her rebellion.
The din of conversation and cars and city is part of the concert to her, and she notices immediately when it starts to fall away. The mournful melody that emerges from her instrument grows louder and louder, and she might be hallucinating, adjusts her fingers until she knows that's not it. There are gasps and shouts, and then there is silence.
A silent crowd and if she couldn't hear the sound of her own music, she'd believe she's been struck suddenly deaf. No cars are moving. No one is moving, except her, coaxing vibrations from the strings.
And then a new sound joins her. She hears the unmistakable clack of hooves on pavement, and she goes silent, finally, like everyone else. The man is too large to be simply a man, and branching antlers sprout from a thick helmet he wears. He sits a pale gray horse, its coat shining like silver. His face is green, sickly and healthy at once, above heavy brown leather armor. He holds the thick body of a snake in one hand, twisting, with a small horned ram's head at the top.
Around the horse's feet come the hounds, slipping through the crowd, crying and yipping. They are lean, hungry, with white fur and red-tipped ears. A woman follows them, with long wild hair and torn clothes, and urges them on in a thick voice, using some language Alice doesn't recognize.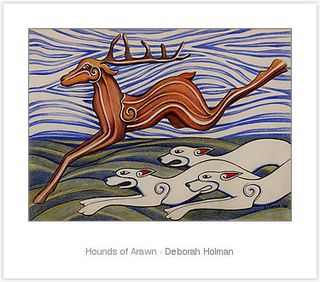 The…man?…on the horse rides toward Alice, his black eyes on her. The other people around the statue scramble away, but she is frozen there, the weight of her violin in her hands the only thing that convinces her she is real. That this is real. That she is awake and this is happening.
The man stops a half-dozen feet away from her. She is surrounded. The yipping white hounds, and the hag with them, array themselves around her. Trapping her where she stands.
Like I'm their prey, Alice thinks.
The green-skinned man on the horse cranes his horned head skyward, gazing up at Eros. His horse takes two more heavy steps forward. It feels as if the pavement trembles beneath Alice's feet.
She should go. She should run, like everyone else did. But one of the dogs must sense the direction of her thoughts — if that's possible? if any of this is possible? — because it snarls and lopes closer.
She has to do something.
And so she lifts her bow and resumes playing. The dogs let out a chorus of unearthly howls, and, finally, after who knows how much time passes, the man turns his gray horse away, and the hounds follow him. She plays until the horse's hooves and the eery dog calls and the encouragement of the hag can no longer be heard. She plays as the people around her become noisy again, as they discover the cars and buses are still not moving, as the bright lights go dark, as screams reach out from the distance.
Alice plays until the piece is finished, and only then does she stop, and put her instrument back into its case. Only then does she try to decide where to head from here.
 -fin-