Welcome to this stop on the YA Scavenger Hunt extravaganza!
(I'm Gwenda Bond, and my stop is being hosted by Rachel Harris. There you can find an extra for THE WOKEN GODS, a glimpse of the Awakening in London called "Arawn and the Wild Hunt Visit the West End." As some of you know, I hardly ever write short things, so I hope you like it.)
If you're new to the hunt, this tri-annual event was first organized by author Colleen Houck as a way to give readers a chance to gain access to exclusive bonus material from their favorite authors…and a chance to win some awesome prizes! At this hunt, you not only get access to exclusive content from each author, you also get a clue for the hunt. Add up the clues, and you can enter for our prize–one lucky winner will receive one signed book from each author on the hunt in my team! But play fast: this contest (and all the exclusive bonus material) will only be online for 72 hours!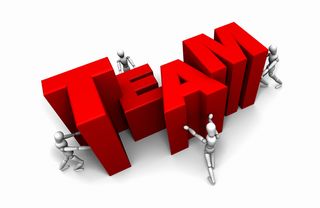 Go to the YA Scavenger Hunt page to find out all about the hunt. There are THREE contests going on simultaneously, and you can enter one or all three! (Go for all. These are pretty amazing prize packages we're talking about here.) I'm a part of the RED TEAM–but there are also red and gold team contests with a chance to win a whole different set of signed books.
If you'd like to find out more about the hunt and see links to all the authors participating, go to the YA Scavenger Hunt homepage. (An extra round of *applause* for organizers extraordinaire Colleen Houck and Beth Revis.)
SCAVENGER HUNT PUZZLE
Directions: Below, you'll notice that I've listed my favorite number. Collect the favorite numbers of all the authors on the red team, and then add them up (don't worry, you can use a calculator!). 
Rules: Open internationally, anyone below the age of 18 should have a parent or guardian's permission to enter. To be eligible for the grand prize, you must submit the completed entry form by Oct. 6 at noon Pacific Time. Entries sent without the correct number or without contact information will not be considered.
AUTHOR STOP
C.J. Redwine loves fairy tales, lemon bars, and Benedict Cumberbatch. She is the author of the Defiance trilogy, a post-apocalyptic fantasy from Balzer + Bray/Harper Collins. C.J. lives in Nashville with her husband, four kids, two cats, and one long-suffering dog. To learn more about C.J., visit her website at
http://cjredwine.com/
You can also go buy her books. During this hunt, C.J. is featuring the latest installment in the Defiance trilogy, Deception.
ABOUT THE BOOK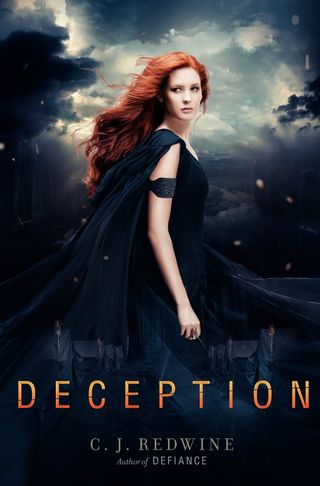 A rich, postapocalyptic YA fantasy perfect for fans of Graceling and Tamora Pierce, this sequel to C. J. Redwine's Defiance continues the story of warrior Rachel Adams and her love, Logan McEntire. With their city-state ravaged, their lives under constant threat from rival armies, and a band of survivors looking to them for leadership, Rachel and Logan must work to forge a new future for them all. But evading an army and surviving the Wasteland may be the least of their worries: an unknown killer–possibly inside their ranks–wants every last one of them dead.
For the hunt, C.J. is giving you a little taste of Deception, with this excerpt…
 Extra content SNIPPED.
 *****
Amazing, right?
But before you run off to snag Deception, don't forget to enter the contest for a chance to win a ton of signed books by me, C.J., and more! To enter, you need to know my favorite number: 13. Add up all the favorite numbers of the authors on the red team and you'll have all the secret code to enter for the grand prize.
 CONTINUE THE HUNT
To keep going, you need to visit the next author: Corina Vacco. So get hopping! 
BONUS GIVEAWAY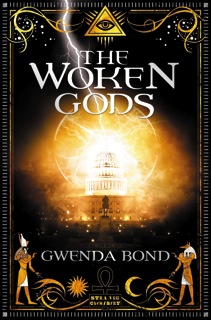 The book of my own being featured in the hunt is THE WOKEN GODS (though, my first novel BLACKWOOD is on crazy cheap e-book sale for $1.39 at Amazon–maybe not for much longer). Here's what THE WOKEN GODS is about:
Five years ago, the gods of ancient mythology awoke around the world. This morning, Kyra Locke is late for school.
She lives in a transformed Washington, DC, the city now home to the embassies of divine pantheons and the mysterious Society of the Sun. But when our rebellious heroine encounters two trickster gods on her way back from school, one offering a threat and the other a warning, it turns out her life isn't what it seems. She escapes with the aid of Osborne "Oz" Spencer, an intriguing Society field operative, only to discover that her scholar father has disappeared with a dangerous relic. The Society needs it back, and they don't care how they get it. From the author of Blackwood comes a divinely different fantasy that will appeal to fans of Neil Gaiman, Cassandra Clare, and Rick Riordan.
Amazon | Barnes & Noble | Indiebound  
I'm also running a giveaway for THREE signed copies at Goodreads this month. Click through to enter and add the book to your TBR shelves.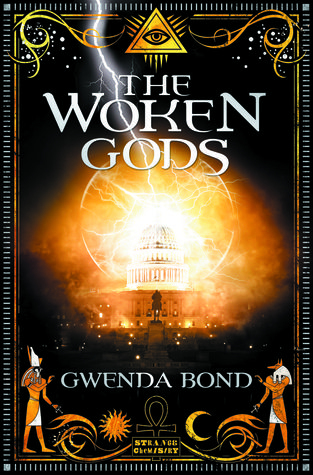 And now, happy hunting!