Today is release day in the UK and Australia! Purchase links for those corners of the world:
Amazon.co.uk | Book Depository | Waterstones | WHSmith
And the US links again:
Amazon | Barnes & Noble | Indiebound | Powells
You can find out more about all this month's releases from Strange Chemistry here. (And Blackwood and a handful of other SC e-books remain on mega-sale.)

The new book and I are still popping up in the cybercorners of the world:
Thanks to all of you who've tweeted, retweeted, facebooked, reblogged, cheered–I'm grateful to each and every one of you. And please feel beyond free to send/tweet me pics of the book in the wild should you encounter it, let me know what you think if you read it, and, if you enjoy it, consider leaving a review at Amazon, GoodReads, B&N, or tell a friend. Books (and authors) live (or die) by word of mouth.
Now for some photographicals Christopher snapped at the signing event Tuesday night at Joseph-Beth, which was so much fun: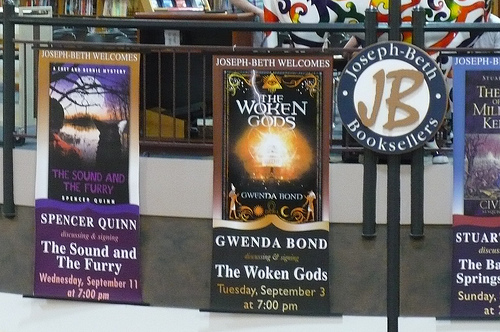 Many thanks to everyone who came out and to the store.
And thanks to Christopher, who agreed to help out with a brief bonus reading from the middle grade we've been working on together (and which we just finished up a round of revisions on). I suspect his dragon stole the show. As he put it, he's the Benedict Cumberbatch of Kentucky. And he also got me this necklace for our ninth anniversary.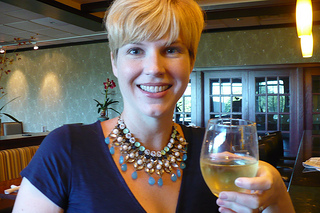 I might have picked it out.
If you're local and missed the event, I'll be at the Morris Book Shop at 6 p.m. on Saturday, Sept. 14.