Five things to share today, so a quick update. I'm knuckling down on the second half of this revision and staring down the barrel of jury duty later this month, with more revising of a different project coming soonish…so probably this will be a season of less frequent updating. (But if anyone has requests or suggestions for a particular topic for a blog post, then let me know in the comments or at twitter or via email and I'll do my best to work it in.) Also, hello lovely visitors by way of Vampire-Diaries.net. *waves*
Received confirmation this morning that barring mega-earthquakes, volcanic explosions, or other large-scale protests from the Earth, the release month for The Woken Gods will in fact be next July! (Which means there will probably soon be an official description and maybe preordering type links. Cover discussion has tentatively begun. In the meantime, if you want to know more there's this.) Cue *nerves*. Not that there is going to be time for them.
Are you in Kentucky, particularly near Lexington? Then you should come out to the fabulous Joseph-Beth Booksellers on Tuesday, October 30, at 6 p.m. I will be discussing Blackwood and telling a scary ghost story or two in honor of Halloween and taking your questions and I might even share a little snippet from the new book, time permitting. (Signed copies of Blackwood make a great stocking stuffer–and Christmas will be here before you know it. Just saying!) I dropped by the store last Friday and was a bit woozy to see that I have a table display and an event banner: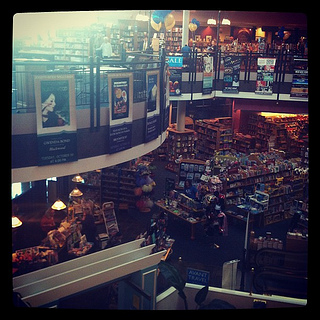 This is particularly cool and surreal because this is the bookstore that first taught me what a wonderland bookstores could be. It was basically my favorite destination as soon as I discovered it in high school, having before only had access to a WaldenBooks (which was itself an hour away). And the team from Joseph-Beth has been absolutely wonderful to me. *draws hearts in air* This one should be fun. So, cooome out, okay? Okay.
Third things third (you see how this is going, right?):
New audiobook review from Bob Reiss of the excellently named audiobook-focused blog, The Guilded Earlobe: "Blackwood is a strong YA tale with themes that permeate the label but are done in a unique and engaging way. The strength of this novel is in its characters. Bond created two engaging protagonists, and a slew of secondary players that are well developed."
Want to sample said audiobook? I thought you'd never ask. The folks at AudioGo have just put up a youtube clip for your sampling pleasure.
Two things absolutely made my day yesterday. The first was a review from Delaney, age 12, in the October issue of the Sacramento Book Review. Snippet: "Blackwood was an amazing book! … This book was an excellent mystery, full of romance, ghosts, ancient curses, historical figures, betrayal, and so much more. I loved how the already intriguing mystery of the Lost Colony was given some unexpected twists and turns. I would highly recommend this book to anyone who loves mystery and magic." (Thanks to the one and only Bookalicious Pam for the pointer.) *beam*
The other thing that made my day was this photo from Ballou High School:
Look at this @gwenda – your book has arrived at @balloulibrary twitter.com/BallouLibrary/…

— Colleen Mondor (@chasingray) October 15, 2012
You can see another photo of books arriving and read more about the impact the Ballou High School book fair has over at Guys Lit Wire. To whoever sent my book to Ballou, my love to you, kind soul. And if you haven't sent a book via the Powell's wishlist yet, there's still plenty of great ones left to choose from.
Annd that's it from me today. Have a great week, everybody.