Weekenders, that is. I'm sure many of your daily papers have weekend entertainment sections and so does our Herald-Leader. I went out to get a hard copy, and must admit to a moment of surreal geek-out, because I have secretly always wanted to be in the Weekender, repository of cool arts news.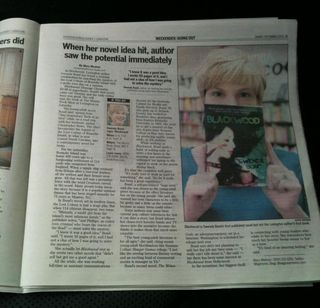 Surreal. Completely. And one last reminder: launch partyness will be happening at The Morris Book Shop (conveniently located in Chevy Chase) at 6 p.m.ish tomorrow night. An alchemical symbol made of donuts is in the works and you don't see that every day, now do you?
And Christopher just took this screenshot of the front page of Kentucky.com. EEP. (Typo in the buy line keeping me humble. But, hey, the important thing is that the link still works. Who knows how long it'll be like this? But holy. crap.)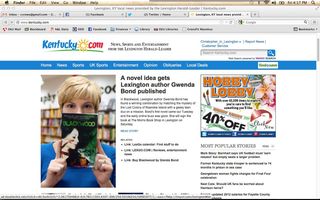 And if you're not in Lexington, but are going out bookshopping this weekend, please keep Blackwood in mind. First week sales are always good, and it should be in many shops (because the Random House sales team are rock stars), but asking for it in ones where it isn't is always encouraged. (Ditto in the UK. And also consider release sister Kim Curran's Shift.) Buying a copy for yourself or your favorite teenager is also encouraged and makes kittens frolic through meadows (one kitten frolics per copy!). Also, I just discovered the Powell's site shows what's in stock in their stores as well as the warehouse. Had a moment of utter delight that my book is at Powell's stores–including two copies in the Airport store apparently (PDX visitors, you would be my favorite if bought and/or photographed these).
And lovely tweet I woke up to this morning: 
@gwenda you are featured on a Books Every Teen Should Read table at B&N. 😀 twitter.com/IBlogYouRead/s…

— Celine (@IBlogYouRead) September 7, 2012
YAY. As a first-time author, I cannot tell you how much I appreciate any and all support (and photos like this!). It's a very at-sea feeling this week, and you have made it awesome. I'm already completely overwhelmed and grateful. You guys are The Best.
A few new reviews and a guest post: