And tonight's episode is:
For Fanny. An unexpected occurence puts Michelle at odds with her new mother-in-law; Fanny's students prove to be an inspiration.
The Facebook discussion thread is right here.
Unrelated personal nattering: For those keeping a grossness tally of C's week away at le workshop (okay, that's just me, but I'm going to inflict it on you too), so far I've had to dispose of THREE dead birds from the back yard. Tragic bird family–seriously, they are the Okies of bird families, the back yard is the Dust Bowl, and Emma is the Steinbeckian wrath–keep building their nest where babies get washed out when it storms… Sadness. Especially when you have to intercept a half-golden retriever, half-basset hound who apparently got the retrieving gene loud and clear. Don't let her innocent mug fool you.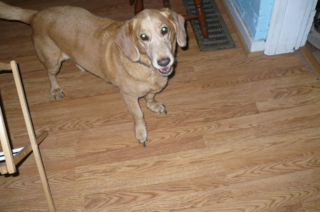 Anyway, come over later and talk TV (and things that are infuriating said in interviews).
*Did I ever post Christopher's story about the teacher who told his seventh grade science class that: "Dogs are cold-blooded. How else are they able to sleep outside during the winter?"