So… I really can't tell you how lucky I feel about my whole experience so far with my editor, the lovely and supersmart Amanda Rutter of Strange Chemistry, and her robot overlords, the team at Angry Robot Books (which is known for producing some fabulous covers, among many other things). I know many first-time authors have no clue what their cover art might come out as and aren't consulted at all.
When I was filling out my author questionnaire one of the questions was whether I had any ideas about cover art and especially any no-nos. I very helpfully responded, essentially, "Not Bad. I like Good Covers." And when Amanda came back to me a couple of weeks later with a cover concept, I was like, "This is why I am the author and you are the publisher." Because the concept was so perfect and cool, and of course nothing I'd have ever thought of. But, you know, one is still NERVOUS. But then a first version of the art came in and I got a little peek and I thought, whew, I really like it. Today, however, Amanda has posted the final cover art and it is Even Better. I truly think it's striking (no pun intended–the artist is Steven Wood), and I love that it's also thematically right and will be even richer in meaning for actual readers.
The basic concept comes from the fact that protagonist Miranda Blackwood's father has a strawberry-colored snake-shaped birthmark that symbolizes the Blackwood family's supposed curse. I'm putting a smaller version here, but: Go look! Ogle! Admire! Embiggen! Leave Comments!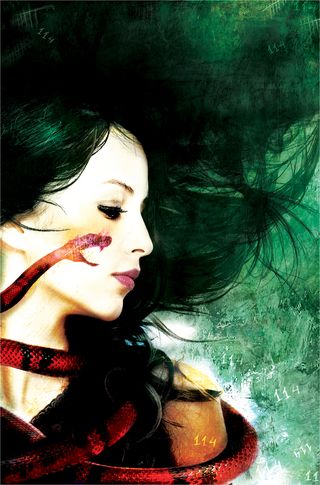 What think you? I personally can't wait to see the final cover composition.
More about le book itself here.