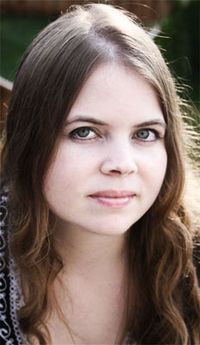 I was lucky enough to get my grubby mitts on an advance copy of debut author Tara Kelly's novel Harmonic Feedback awhile back. From the first page, it became one of the most compelling books I'd read in ages, and it delivered all the way, finishing with an incredibly brave ending. I can't recommend this one highly enough–especially for artistic/outsider teens (or we adults who were those kids) or if you're looking for book with a smart, less-than-perfect romance. You can read more about Tara and Harmonic Feedback at her site; the book releases next week.
I'm so pleased to host this interview with her as part of today's SBBT stops.
GB: I love the writing process porn and my blog's readers have not been getting a lot of that recently. So, let's start with process. Tell me about the writing of Harmonic Feedback–how did you approach it? Did your process change as you wrote this book?
TK: With virtually all of my stories, the characters come first…plot later. This is definitely has its share of issues when it comes to the process, especially in the areas of pacing and structure. But I wouldn't have it any other way. Discovering the story along with my characters is a big part of what I love about writing. Plus, I don't always like to know what happens! And many times my characters change the plot on me anyway…they have a mind of their own. That being said, I'm a hardcore editor who isn't afraid to 'kill her darlings' so to speak. So any mess I make not planning beforehand is easy to clean up.
In regards to Harmonic Feedback specifically, my biggest challenge was writing from Drea's POV. While we share some commonalities–being socially clueless for one–I'm not at all literal or rational like Drea is. I'm all about melodies and metaphors where Drea is very technical and to the point. Yet I LOVED being in her head and seeing the world through eyes so different than my own.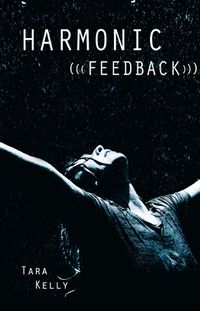 GB: I just devoured your book from start to finish, and I really think it has some of the best written characters and relationships I've seen in ages. I also think it's amazing that you've written a novel about a girl who has Asperger's, and having that be central to her characterization WITHOUT making it a problem/issue novel. Can you talk a little bit about how the characters evolved during the writing?
TK: Wow, thank you! Well, I guess it helped that one of my goals was to NOT make this book
about
  Asperger's. There are plenty of great non-fiction books about AS and the autistic spectrum. 
And there is lots of fiction out there, making autism the central issue. But I also think when people read a list of symptoms, the autistic spectrum gets stereotyped–and they tend to think everyone on the autistic spectrum is alike. My intention with Drea was to humanize autism some–based on experiences with my own family, especially my brother who is autistic. I also wanted to take a character with these challenges and throw her into a mix of other characters who have challenges of their own. I don't know
anyone who is perfect…who doesn't bring some form of baggage to a relationship. And I LOVE stories that bring very different people together and force them (in a way) to come to and understanding about each other. If you haven't guessed by reading HF, one of my favorite movies of all time is The Breakfast Club. It came out when I was just a little tot, but I remember relating to the characters at even a very young age. I think it's one of those movies that sort of transcends 
time. It's definitely something we all go through in high school.
As for how the characters evolved, I had a great picture of every character before I started writing the book. I knew all their stories, what they wanted, what drove them crazy, their biggest conflict, etc. But I didn't know how they'd interact or how things would end…that played out as I wrote the book.
GB: You're also a musician, which clearly shows through in this novel. How are the processes of making music and making stories different or what commonalities to they have for you?
TK: They are actually quite similar for me. I write songs much like I write books…by the seat of my pants. I also can't write books without music and I can't make music without books. Music helps put me in a mood and it certainly gets me inside a character's head. And I find it easier to write songs when I have something to write about…not necessarily myself (I'm pretty boring). I often write songs about my characters, actually. 
GB: So what's next for you?
TK:
My next book, C-Side Tales, comes out next year, and I'm very excited about it. Harmonic Feedback deals with music, obviously, but C-Side focuses solely on what it's like to be a band in today's music world–which has changed significantly in the last ten years. To steal my agent's summary–the story revolves around a 17-year-old girl who has to battle wicked stage fright (and a crush on the superhot bass player) to convince the members of her new band that she can hack it as their lead guitarist.
The other book I'm working on is called Nyx & Thor. Told in alternating points of view, it's a love story about two Vegas teens–a bully and the girl he torments. 
GB: And, also, make some recommendations–what have you been reading/watching/listening to that you think other people should check out?
TK: Books (my faves in the last year): Ballads of Suburbia by Stephanie Kuehnert, Some Girls Are by Courtney Summers, and Flash Burnout by LK Madigan. These are GREAT examples of beautifully written realistic-contemporary YA. They've got tension, heartbreak, awesome characters…and they're just all around addicting.
Music: I highly recommend giving a listen to a couple bands mentioned in HF–Black Lab and Puracane. They're both hardworking indie bands and they're VERY talented. While writing C-Side, I wanted to listen to similar bands. One of those bands is called The Birthday Massacre–and they are RAD. They are an odd mix of 80's, goth, industrial, and they are like listening to a dark, creepy fairy tale. I ADORE them. There's a few just to get started *grin* but I can make music recommendations for days.
Thanks, Tara!
Visit today's other SBBT stops:
Jenny Boylan @ A Fuse #8 Production
Lisa Mantchev @ Writing and Ruminating
Donna Freitas @ Bildungsroman