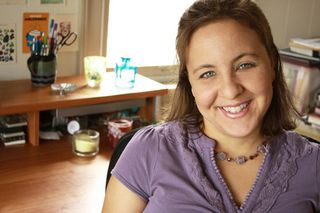 I'm thrilled to host a fine debut author (and a good friend) Jessica aka "Jess" Leader today. Her debut novel, Nice and Mean, which I was lucky enough to read earlyish on in its life, will be released on June 8. It's about two girls–one nice, one mean, both complicated–who have to work together on a film project. You will love it.
(photo credit: Marc Bovino)
GB: So, let's start with process.
 Tell me about Nice & Mean–how did you approach it? Did your process
 change for this book, different motivations, challenges, typewriter,
 etc.?


JL: Writing Nice and Mean was a different process for me in that I approached the work with more dedication than I had in the past, and I finally got professional help—on the novel, at least. In the past, my writing goals pretty much fell along the lines of, "Let's see how much I can get done over this school vacation." With Nice and Mean, though, I wanted someone else to set the pace, so I joined an online critique group and committed to submitting a chapter a month. At the time, that felt rigorous. When I think about it now, I shudder at the prospect of producing so few pages in so many weeks, but every writer is different, including you and your past self. It was really good for me to write and receive feedback on a regular schedule, and I'm sure the critique group was the reason that I finished a first draft within a year of starting, which is still pretty fast for me.
The other difference between this project and past ones is that after I sold Nice and Mean, I got the help of my editor, my agent, and my grad school advisor in revising it. Oh my word, what a difference that made. Those three women are so insightful, and they express their insights in such different ways, from the pithy one-liner to the purple email to the 22-page letter. (I'm not joking about that last one, and I'm not naming names. But I will say that it was one of the best letters I have ever received.)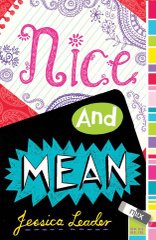 GB: You and I have talked about this, but I know you worked very hard
 to make sure you accurately represented the diverse cast in the book.
 Can you talk a little bit about the experience of writing characters
 from different ethnic/social backgrounds than yourself?
 
JL: Sure. To give a bit of background to this question: Nice and Mean is told from the perspectives of two seventh-grade girls: Marina, Caucasian, born in the USA, and Sachi, who emigrated from India when she was five. Since I am definitely not Indian-American, I did a lot of research on the front and back ends of the process to make Sachi's story factually and emotionally true.
 
Before I wrote the book, I read a lot of novels from the point of view of Indian-Americans, studied immigration laws and patterns, and read up on India and Hinduism. Then I drafted. Somewhere in the middle of the process, I got an accuracy check from an Indian-American friend, which was very reassuring, and I pretty much wrote and revised for a while after that without consulting any outside sources.
 
As I prepared the novel for its delivery date, though, I started to panic. This story was going to be published? People were going to read it? What if the details were incorrect?  What if my Sachi seemed like a fraud? I gathered a new corps of Indian-American readers and held my breath to see what they'd say.
Again, I was gratified to hear that my readers felt like I'd expressed something authentic in Sachi. What was most interesting, though, was where I'd gotten details wrong. "The older sister is too much of a bossy care-taker," they told me. "In an Indian-American family, she wouldn't be so much in charge. She'd just be another kid." Beyond cluing me in on family dynamics, that comment helped me open up the character of the older sister. I thought more deeply about why she would object to her younger sister's transgressions, and in so doing, deepened their sibling relationship. In short, a comment that steered me away from my assumptions made me write a better book…imagine that.
GB: So we did Vermont College MFA together, hurrah. And there is a lot
 of MFA bashing in the world out there, so I'd like you to gab a little
 about what you got out of the MFA experience–how you feel it's 
influenced your work and if it was a positive one. Also, is there 
something that bugs you people believe about MFAs?


JL: Getting my MFA was one of the best decisions I ever made. I mentioned discipline earlier; being challenged to write or revise 40 pages a month, plus read critically and write essays, forced me to find productive work habits and stick to them. And then there was the feedback on what I produced! Talk about your in-depth responses: lengthy letters, inset comments, follow-up emails…my advisors were so generous and smart; I actually started crying every time I tried to write acknowledgements for them in Nice and Mean.
Another enormous benefit of a graduate program is lifelong connections with other writers in your field.  There's the chance to nerd out with your friends over when the next Hunger Games sequel is coming out, or your shared love for The Girl With the Silver Eyes (and if you want to get that book back in print, I have a very inactive Facebook page devoted to the cause.)
 
Equally important is the chance to exchange critiques with people who have been through the same boot-camp and to learn about the business from those who are further along in the process. There are no bowls large enough to mix the cookies I would bake to thank people like you, Gwenda Bond, and Varian Johnson if he liked sweets more, and Shawn Stout and Tami Lewis Brown and oh…I'm forgetting several, I know. But calling on friends like these in times of need must be one of the "rights and privileges" referred to on my diploma—and only in part because I can hardly think what other rights and privileges an MFA confers.
GB: What are you working on now? What's next?

JL: I'm working on a YA novel, currently titled The Book of the Dead. On Halloween night, our narrator is plagued by memories of an accident on a summer wilderness trip and tries to retell the story by sunrise to exorcise the ghosts.
GB: And, also, make some recommendations–what have you been
 reading/watching/listening to that you think other people should check
 out?
 
JL: For some reason, I'm really enjoying hearing artists talk about their work, whether it's "Fresh Air" or DVD special features. I recently sampled the special features on Up in the Air and it kind of blew my mind (hm, must be something about air.)
 
First of all, I wanted to cheer after every deleted scene, "Yes!  Good choice for the cutting-room floor!" There was one particularly egregious montage in which George Clooney's character, who morphs from a loner to a lover, buys an apartment and starts filling it up—a comfy chair, curtains, groceries. I almost shouted, "No!  Do not show him buying tomatoes!" It turned the movie went from spare and strained to a Hugh Grant special, and while About a Boy and, um, Music and Lyrics are two of my favorites (hey, it's about the artistic process), the Montage of Transformation just did not belong Up in the Air. The montage was technically accomplished, but it didn't fit, and it was encouraging to see another artist murdering his darlings in the name of finding the right tone for his film.
 
The other special feature I loved from Up in the Air was the director commentary, especially the part about the photo of the main character's sister. One of the movie's running motifs is that George has to photograph a cardboard cutout of his sister and her fiancé at various tourist attractions, and his changing attitude toward the task mirrors his feelings about travel and family. I'd have thought something like this appeared in the first draft of the screenplay, or maybe even in Walter Kirn's novel; it just seemed so integral to the story. But in the director commentary, the writer-director noted that when another director read the script, he said, "You need to give Clooney's character something to do on the road."
I couldn't believe it!  He added the photo in revision? But it was so important—how could it not have been there all along? And what—Academy Award-winning screenwriters don't always give their characters enough to do? I'm not alone? Whoopee! It was so liberating to know that even a writer with Reitman's chops gets comments like, "He needs something to do on the road," and it was inspiring to see how he put it into action. 
Thanks, Jess!
Visit today's other SBBT stops:
Wednesday, May 19