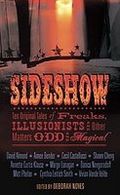 Margo Lanagan posts about Sideshow: Ten Original Tales of Freaks, Illusionists, and Other Matters Odd and Magical, a forthcoming, drool-inducing anthology edited by Deborah Noyes (I'd read anything edited or written by Deborah Noyes, actually, but this just sounds too good). Sayeth Margo:
…The real thing won't be out until mid-July, but get ready for it. My story is about anthropological exhibits, and is called 'Living Curiosities'; the other stories are by Aimee Bender, Vivian Vande Velde, Danica Novgorodoff, Annette Curtis Klause, David Almond, Shawn Cheng, Cynthia Leitich Smith, Cecil Castellucci and Matt Phelan.
Again: WANT.
And now, after a brunch of beignets and good conversation at Doodles, an afternoon of work before the Puppy Bowl.