Cynthia Lord has started a photo challenge, which involves posting a shot of the area where you live each day for a week. Since I always get maudlin when I'm about to have to leave town for a bit–the residency starts next week–and like showing off Lexington, I decided to participate.
Today's shot comes from a brief bike ride Christopher and I took around town. I needed a break from revision madness for a few, but the conditions appear to be pre-thunderstorm, so brevity was called for. (Don't worry. I'm taking the rest of the night off, probably to finish rewatching the first season of Veronica Mars. Oh, such a good show.)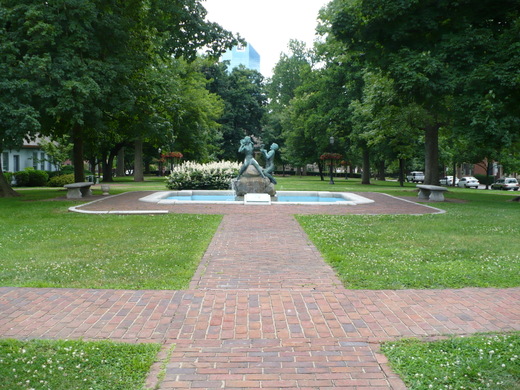 That's Gratz Park–a block and a half from our house or so, and which the dogs get traipsed through a couple of times a day. The sculpture is called "The Fountain of Youth" and dedicated to a Kentucky writer, James Lane Allen. I'm guessing these days frolicking nude children would be voted down as a memorial, but no one is picketing these guys yet. To the left is the carriage house, the site of many court-ordered AA meetings.