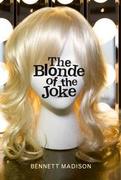 I just finished Bennett Madison's new novel The Blonde of the Joke, which in his words is about "skanky shoplifters searching for the Holy Grail at the mall." It is SO good. With this book, he's pulled off something so difficult to do; as I told a friend in e-mail, it satisfyingly blurs the line between realism and the fantastic in a way that's still rare. It's a realistic novel, but flirting with being something else, flirting heavily, and in the process becoming its own unique, perfect thing. Beautifully written, too.
It pairs fabulously with E. Lockhart's equally awesome The Disreputable History of Frankie Landau Banks (about which more in the sidebar to the right, or see Jules and Eisha's excellent co-review). Lockhart's fable of a girl coming into her own by secretly taking over a secret society never simplifies or skirts gender issues and power dynamics. Frankie gets to be realistic instead of a treatise disguised as a character.
Both these books show writers hitting their top game. Blonde releases in September, but you should get your hands on a copy of Disreputable History immediately.
There will be proper book posts around this place at some point, perhaps after I finish my final packet of the semester next Monday. (Of course, after that I'll be feverishly finishing this d*$! novel for my month off, but I'll try to do better anyway. And the Octavian Nothing sequel deserves a proper post, because it is BRILLIANT.)