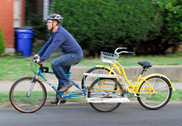 Or the yellow bike wrangler, anyway.
There's a big, great feature column on Christopher coming up in tomorrow's local paper, but it's already up online:
"Some kid had written his name all over it in magic marker," Rowe said. "I don't think he's going to be a very effective bike thief."

…

"One thing I've learned in terms of sociology reminds me of the legendary Old West attitude toward horse thieves," Rowe said. "I'm here to tell you that if you take one of these yellow bikes and put it behind your house, your friends, your neighbors, your landlord, your girlfriend … they are looking for an opportunity to rat you out."
Hee.
(Updated: New link with more pics! Also, you can now leave nice comments at the end of the story.)