You all already know by now about the tremendous Blogging for a Cure effort organized by the ladies of Seven Impossible Things Before Breakfast. Today's my day to point you to a wondrous snowflake that's part of the auction, this one by Jimmy Pickering.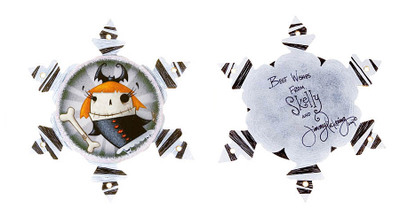 Be sure to check out the images from Pickering's solo show "sweet, sweet evil" and the fabulous books he has both written and illustrated for children.
The 2007 online auctions for these beautiful, hand-painted snowflakes will take place November 19 to 23, November 26-30, and December 3-7. The outrageously cool snowflake above by Jimmy Pickering will be live during the December dates.
Today's other featured snowflakes are:
Note that the illustrators and snowflakes that bloggers are featuring are only the ones that the Dana-Farber Cancer Institute had ready to go when this multi-blog event was organized. There are even more snowflakes at the Robert's Snow auction site. Check them out and happy bidding!