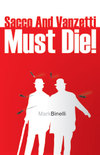 And I'll give away stuff if I want to. That's right. I want everyone to be happy on my birthday and get presents. Since I can't do that, the first person who emails or comments and says they would like them will get advance copies of Susanna Clarke's The Ladies of Grace Adieu and Mark Binelli's Sacco and Vanzetti Must Die! (plus whatever else I feel like throwing in, probably a copy of the new F&SF, some zines and spare stuff); they'll even be wrapped nicely.
Now I go eat scones then get the superdeluxe massage and at some point sushi. (& a little party this weekend.) I love birthdays. And I'm actually ecstatic to finally be 30. It's going to be a great decade. I can feel it.
Someone did the juju.