What a weekend! From the crowded cosplay halls of Dragon*Con to the airy (and occasionally broiling) square at Decatur Book Festival and back again (and again). I talked comics and fantasy and Lois Lane and YA humor and circus things on panels and afterward, signed a lot of books and met so many wonderful readers, and, as always, saw too many friends and met too many new people to name them all. 
There's a nice Daily Dragon recap by Brynna Owens of the Creating a Safe Space for Female Readers panel that featured Laurenn McCubbin and myself on Friday.

A great panel on safe spaces for female comic readers with Gwenda Bond and Laurenn McCubbin 😃 #DragonCon2015 pic.twitter.com/9QBlfPxnGW

— Margaret A. Robbins (@Margaretkidlit) September 4, 2015
And I think people enjoyed the sneak peek (er, listen) to part of Double Down — again, I thank you guys who braved the Dragon Con parade insanity to get to the Hyatt basement.
.@Gwenda reading from Lois Lane: Double Down! In a deeply weird conference room. pic.twitter.com/csW6h8xReY — E.C. Myers (@ecmyers) September 5, 2015
The humor panel at Decatur was fun, as a humor panel should be.
Humor in YA at @DBookFestival with @Gwenda and @hollisgillespie #allaboutthatsnark #loislane #ireadya #ya pic.twitter.com/bnVt7GGH1y

— s.leady (@fawksylibrarian) September 5, 2015
We decided to go full dance party at the DBF party, and Terra made it happen.
Here's to the ladies who write! @TerraMcVoy @valvearshecter @Gwenda @LadyHawkins pic.twitter.com/jpRkCJM1VF — Ash Parsons (@AshParso) September 6, 2015
And Truth or Dare at the hands of Kimberly Jones and Vania Stoyanova with Libba Bray, Terra Elan McVoy, Becky Goldstein Albertalli, David Arnold, Adam Silvera and Andrew Smith is already legend. Its songs and videos and dramatic readings are being immortalized all over Facebook and Twitter Valhalla, as they should be.
YA Truth or Dare was the absolute best way to end my weekend at #dbf2015. Saw some things I will never unsee. 😳😂💃🏻 pic.twitter.com/CDfn8lJp0r

— Madalyn Hardwick (@hellomadalyn) September 6, 2015

So many thanks to the wonderful DBF organizers and volunteers and Little Shop of Stories for being awesome, and to Bev Kodak and her YA lit track team at Dragon Con for the same (plus, the lovely comics track organizers!). Book people are the best people, and I'm so glad I get to live this bookish life with all of you.
The night we arrived in Atlanta, Christopher and I went up to the rotating restaurant on top of our hotel for dinner to celebrate our anniversary. And I remembered visiting it with Diana Gill almost exactly a year ago for a drink, and talking to her about how I thought I was making the right career choices, but how can you ever know? This was a few days before Girl on a Wire came out (the restaurant has a view of the building that's the scene of Jules' last building walk in the book) and a few days after Lois Lane: Fallout had been announced. Sitting up there, remembering that, and reflecting on the last twelve months… What a year this has been. And so Christopher and I had a toast and set goals for this coming one.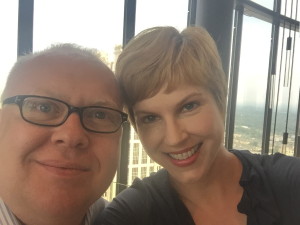 I'm going to go out on a limb and say I think it'll be good too.