A couple of happy-making new reviews, and then I'm sending you elsewhere today. Though I will have a convo between me and my lovely book sister Kim Curran up here later this week and a long overdue I Heart post where I recommend stuff by other people (I can't help but feel guilty talking about my own stuff all the time, even during release season!):
I'm grateful for all reviews, but I think other authors will know what I mean when I say very occasionally you get one from a reviewer who has read exactly the book you hoped to write. This review from Leo Elijah Cristea is one of those for me. (He also has a very engaging critical voice–someone start paying him to write reviews, please.) A snippet: "The Woken Gods is moreish and addictive and incredibly, deliciously strange. This is an offbeat book that chooses its course and sticks to it. There is romance, there is intrigue and there is the ever-important Parent Thing. If a YA book doesn't depict some kind of parental relationship with the protagonist—even absent parents, dead or otherwise, parental figures, guardians, etc—then it is not authentic. … The Woken Gods is dark and witty and compelling."
And from Kevin Holtsberry at Collected Miscellany: "If you are looking for YA fantasy with a compelling female character be sure to check out The Woken Gods. If you are the publisher, have Gwenda make this a series."
So…this week's posts elsewhere about THE WOKEN GODS will be a little different. I thought it'd be fun to spotlight some real-life locations in Washington, D.C., that I used, and how they change in the book–especially since I have a zillion photos I took myself. Today, I'm at Take Me Away talking about how Dupont Circle became Oracle Circle.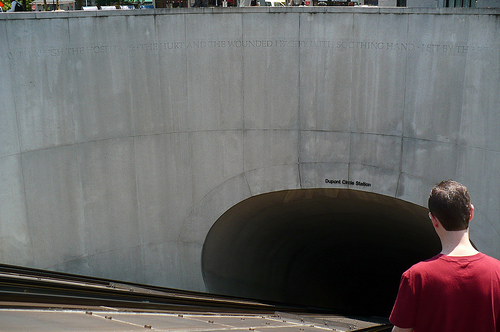 Bonus pic of the Metro entrance/exit, complete with Walt Whitman poetry
(briefly referenced in book)
Head there for more.