At the end of last year, I drove up to Louisville one afternoon to participate in an exceedingly excellent idea for a new radio show Erin Keane was putting together with some of her colleagues at public radio station WFPL, where she's arts doyenne/reporter. Erin and I have known each other since high school, when we met at the Kentucky Governor's School for the Arts, and have been friends and fans of each other's work all these many long years since.
Erin is one of those amazing writers who not only works like a madwoman on her own craft, but also builds literary community to support others. For example, she founded the long-running and wonderful InKY reading series in Louisville. In fact, if there's a fab literary project or magazine out there that's reached out to her or that's crossed her path, chances are she's lent them advice, a hand, or bought a subscription.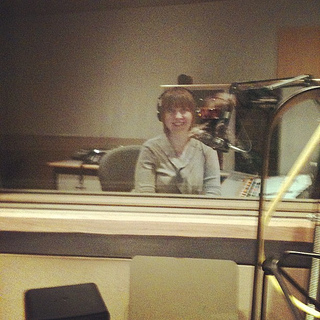 (my crappy instagram photo of Erin on the other side of the glass)
Her latest venture is her biggest and best yet, I think. It's a radio (and podcast) series called Unbound, featuring two writers per half-hour themed episode reading their own work. To quote: "The show will be produced for broadcast in the WFPL listening area, available online via podcast and offered for syndication to other public radio stations. The show will launch this summer."
And it will include a wide range of writing (witness the fact I'm in the first episode, reading from Blackwood — not only a YA novel, but a fantasy one, which a great many literary enterprises might not decide to include, but here's one right up front) from writers who may not be household names. And because it's public radio, they have the ability to use partner stations to record authors who aren't able to get to the Louisville studio, too.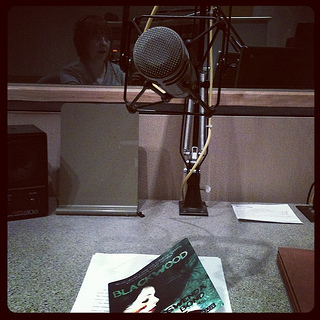 (my slightly less blurry instagram photo from my scary side of the booth, getting ready to read)
I don't know about you, but I love being read to and hearing authors read their own work. And I love anything that helps put the spotlight on newer literary voices, which can sometimes be difficult to hear about in our noisy culture. The beauty of all this is you–yes you!–can help. 
Unbound's Kickstarter began yesterday. They've secured sponsorship to cover much of the costs of producing, distributing and promoting the show, but need (modest) help with the rest. I urge you to check it out (bonus? you can hear me being dorky about all this at the 3ish minute mark on the video). Click through, read and hear all about it.
I wholeheartedly encourage you to support the project if you can and help spread the word. You can also follow the show on twitter at @radiounbound and, of course, listen when it starts broadcasting. Yay.