We had a lovely weekend with the Small Beer Press contingent–Kelly, Gavin and Ursula–and Karen Joy Fowler in town for the Kentucky Women Writers Conference. Topics discussed included: should we be the first to cosplay or start a tribute band based on The Casual Vacancy (related: I adore J.K. Rowling; she comes across as the smartest and classiest in every interview she does*), socialist credentials, and ice cream. It was LOVELY.
A few links of note:
Fabulous books I have read lately: Meljean Brook's Riveted (another excellent steampunk romance), Sarah Rees Brennan's Unspoken (gothic banter, ftw), and David Levithan's Every Day (just gorgeous).
A few Blackwood things, including free-to-a-good-home bookmarks: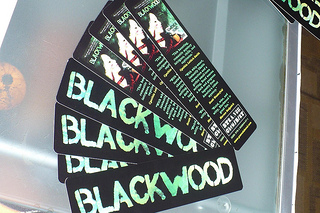 And now back to my previously scheduled cold and trying to catch up on All The Things.
Updated to add: I've seen some buzz about the part about unicorns in this New Yorker interview–it seems like a joke to me? Frankly, I find the need to comment on her make-up and the pop psychology moments and intellectual snarberry (snark meets snobbery) as far more worth getting mad over.