A few new things!
Although the book isn't officially out until September 4 here (and September 6 in the UK), my first event is this week. If you're in driving distance of Roanoke Island (or lucky enough to live down in the Outer Banks), come out! I'm super-excited about this one, and will be tweeting and photo-blogging and things on the way and while we're there, and possibly Christopher and I will even manage a little travelogue video when we return (with some expert assistance from our too-kind friend Mandy, if it happens). (Maybe the hashtag will be #CROATOAN? Oh, I think so.) Here's the details:
Thursday, Aug. 16 from 1 p.m.-4 p.m.: Blackwood Pre-Release Signing at Duck's Cottage Downtown Books (105 Sir Walter Raleigh Street) in Manteo, N.C.
The bookstore has been so wonderful to work with, and I'm told there's a chance there may be a couple of exciting drop-ins from local folks…in costume(!). Fingers crossed, though no promises can be made. (Updated: Eleanor Dare and John Borden from The Lost Colony show will be in the house at 1 p.m. Yay!) But I can tell you that regardless the New World Festival of the Arts will also be going on downtown that day, so fun.
There's a post about all the places I'll be for the next month at the Strange Chemistry blog. (And, of course, here.)
Some new Blackwood reviews (with some leetle spoilers, if you care about that kind of thing–but nothing too spoilery):
And the T-shirts arrived!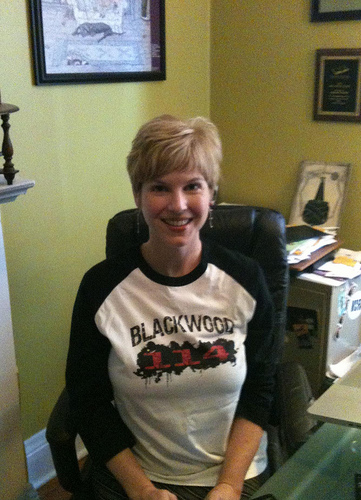 That's it for now. More soon!