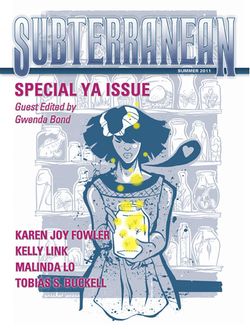 Well, not the last story in the history of time or anything… but the last story in the special YA issue of Subterranean Online. "Demons, Your Body, and You" by Genevieve Valentine has been posted, and it's such a great, hilarious note to end the issue on. I love this story. It's an incisive portrait of a teen pregnancy and features a friendship between two girls that doesn't end in tears.
(I had an interview with Genevieve about her novel Mechanique as part of the SBBT last week–the post right below this one!–and I highly recommend you check out her work in all its many and varied forms.)
Thanks again to the wonderful writers* whose stories made guest editing so much fun, and to the one and only Bill Schafer of Subterranean Press for giving me the keys to his magazine in the first place. And thanks to all of you who RTed and linked along the way. One last time, and I'll stop being obnoxious, check out all the stories, if you haven't.
*Seek their work: Sarah Rees Brennan, Tobias Buckell, Karen Joy Fowler, Alaya Dawn Johnson, Richard Larson, Kelly Link, Malinda Lo, Tiffany Trent, and Genevieve Valentine. And seek the cover artist Sara Turner of Cricket Press' work too.