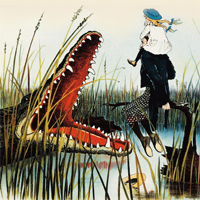 The alligator at the Orlando Airport Marriott's own private Swamplandia is not quite as impressive as the one on the cover of Karen Russell's book. Still, much time was spent looking for the tell-tale shiny black head drifting along the edge of the waterhole, though mostly what got spotted were various long-legged birds striding around the shoreline and–my personal favorite–birds with necks like periscopes, miniature Nessies, or tiny dragons extending out of the water. Said birds could later be seen sunning themselves to dry their wings. Said alligator never bothered to exit the water. How rude.
I'd post pictures of these things, but, as usual, I forgot-slash-decided-not-to-bring our camera. I never end up using it, though I always think longingly of having photos later. Anyway, yes, we had a grand time at our first International Conference on the Fantastic in the Arts (aka ICFA) in ages, and give a big thumbs up to the new hotel. As you can probably tell from the paragraph above, I spent a good deal of the weekend hanging out in the gazebo that overlooked the water. This was an excellent place to set up shop, since lots of people wandered out periodically to do their own alligator/snapping turtle/carp check. Among the wildlife present but not frequently spotted were mosquitoes; my ankles and the sole of my right foot are the proof.
I'm a bit terrified to do the list thing, because there were entirely too many fabulous old friends and fast new ones and people I got to say hi to but not spend nearly as much time talking with as I wanted… in the usual conference way.* It was a pure delight to watch Terry Bisson get feted, and to see/meet/chatter with–for various snippets of time–Richard Butner and Barb Gilly, Ted Chiang, Jeff Ford, John Kessel, Andy and Sydney Duncan, Brett Cox and Jeanne Beckwith, Paul Park, Veronica Schanoes, Peter Straub (aka the best-dressed man in SFF), Brian Evenson, Jim Kelly, Ellen Klages, Liza Groen Trombi, Dora Goss, Karen Lord (met by happy accident in the magic gazebo), Deanna Hoak, and Nalo Hopkinson. Oh, and the extra gift of seeing local pals Jackie Dolamore and Larissa Hardesty again. I already know I've forgotten people. Please to forgive and forget.
That's the main reasons I go to these things. To have fascinating discussions with wonderful types (many of whom are like members of an enormous second family). And try to spot alligators.
Unusually, I also went to a number of programming items (and sat on a panel with people far wiser than me–Nisi Shawl, Graham Sleight, Liza, and Gary Wolfe) including: a panel on the fantastic in Shakespeare; one on taxonomies and genre (good stuff, though it got the fun sort of weird); a fab reading by Jeff, Richard and Connie Willis (!); and the world premiere of Andy's harmonica-playing raccoon as part of a panel on the ridiculous. I was sad to have missed the romantic comedy panel that started the conference, but then managed to bend a gracious Connie Willis's ear on the topic before the banquet.** Can you beat that? I sure can't.
*I felt like I had to do at least a cursory con report, because Jeff Ford cheerfully guilted me about all those long stretches where I just post teensy entries about being busy.
**I was both gratified and relieved to discover we are in total agreement about the true nature of good romantic comedy.